Driver ticketed for warming car in his own driveway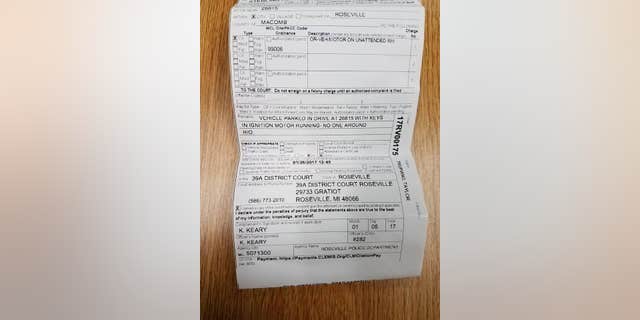 A Roseville, Mich., man is becoming Facebook famous after he posted a picture of a ticket he received from a Roseville cop for warming up his vehicle in his own driveway.
NJ'S BLUE LINE TRIBUTE TO COPS VIOLATES ROAD SAFETY, OFFICIALS WARN
Nick Taylor posted the sarcastic Facebook post on Thursday, thanking the officer who gave him the ticket. According to the picture, the ticket is for his car that was left running in the driveway with no one around.
"I've never heard of any city ordinance of law like that," Taylor said.
OHIO POLICE OFFICER GIVES GPS TO LOST ELDERLY DRIVER HEADING TO FLORIDA
On Thursday, it was frigidly cold and he wanted to keep his car running while he ran into his girlfriend's house. But he left it unlocked with the key in the ignition. Chief James Berlin said that's a problem.
"This is purely a public safety issue. You can't do it. You see it all the time, people hop in a running car and Steal them. Something bad happens when that occurs," Berlin said.
The post received thousands of comments and shares since he posted it.
"I mostly just put it online to see what people thought of it and see if it's happened to anyone else because I've never heard of this," Taylor said.
The ticket shows ordinance listed as 99006 but there is no ordinance in the city or state that corresponds to 99006. Under the description of the offense, it lists VEH/MOTOR ON UNATTENDED 895. Ordinance 895 is listed as being part of 'rodent control' on Roseville's website.
FOX 2 contacted the Michigan State Police for more information. Lt. Mike Shaw says there is no state law that prohibits letting your car idle with the keys in the ignition.
At this point, it seems difficult to decipher which code the officer was enforcing. Either way, Nick has an appointment on January 26th in District Court in Roseville.