Driver in Deadly N.Y.C. Tour Bus Crash Denies Guilt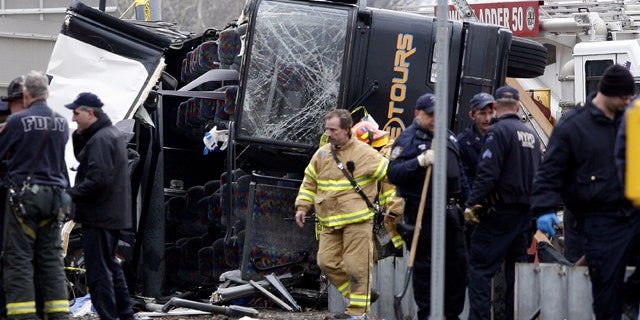 NEWYou can now listen to Fox News articles!
NEW YORK – The driver of a tour bus sliced end-to-end in a March crash that killed 15 people returning from a casino was charged Thursday with manslaughter and reckless driving after prosecutors said he was seriously sleep-deprived and drove anyway.
Ophadell Williams pleaded not guilty in Bronx state Supreme Court to 15 counts of manslaughter and criminally negligent homicide. He also pleaded not guilty to charges of reckless driving and assault related to 15 other passengers who were seriously injured. He was being held on $250,000 bail.
Wearing a blue T-shirt and jean shorts, Williams looked visibly upset when he arrived in handcuffs in court. The only words he spoke were a barely audible "not guilty." His wife left without speaking to reporters.
The World Wide Travel bus ran off Interstate 95 at daybreak on March 12 as it was returning to Manhattan's Chinatown from an overnight trip to the Mohegan Sun casino in Uncasville, Conn.
The crash killed 15 people, mostly Chinese men and women over the age of 40 who were regulars at casinos, and injured 15 others. A preliminary report by the National Transportation Safety Board said the bus veered to the right, crossed the shoulder, hit a barrier and traveled 480 feet as it fell over. Then it slid into a vertical sign support that sheared through the bus at the window line.
Prosecutors detailed some of the injuries suffered in the crash, including one passenger who raised his hands up to protect his head and both limbs were shorn off.
Williams' attorney reiterated Thursday what he has said all along: Williams was awake and alert, and the crash happened when the towering bus was clipped by a tractor-trailer, which forced him to swerve and crash.
Assistant District Attorney Gary Weil said Williams' explanation wasn't plausible.
"That never happened. There was never any contact with a tractor-trailer and this bus," Weil said.
Weil said based on the evidence from their five-month investigation, Williams was driving recklessly almost the entire length of the trip. In the days leading up to the crash, he didn't get enough sleep during his off hours, even though he had been given training recently on the importance of being rested for overnight bus trips.
Weil said Williams drove past four or five rest stops on his way back from the casino when he could have gotten coffee or caffeinated soda to help him stay alert.
"He knew he was sleep-deprived, and yet he drove 32 passengers unsafely ... trying to get back to Chinatown," Weil said.
Attorney Steven Seener, who was representing Williams for the arraignment only, said Williams' claim that the bus was side-swiped by a tractor-trailer is "an entirely plausible explanation."
"He's completely remorseful of what happened and is also seriously injured," Seener said of Williams. Williams has said he had difficulty breathing after the accident.
Some surviving passengers who are suing Williams claimed he was asleep at the wheel. An attorney for one of the passengers, Yuke Chue Lo, said she said through an interpreter: "I am very happy that the driver is going to be held accountable for his actions, but I just wish the company that hired him would accept responsibility, too."
The bus company won't face any criminal charges related to the crash, Bronx District Attorney Robert T. Johnson said.
The NTSB report found that an inspection of a tractor-trailer whose driver came forward as a witness revealed no evidence of contact. The report also found that the bus was traveling 78 mph less than a minute before the crash but then slowed somewhat. The speed limit at the Bronx site is 55 mph. It doesn't cite a cause of the crash, and officials said that would be determined in the final report likely out next year.
Williams was also charged with driving a vehicle without a valid license, after prosecutors said he had a suspended license since 1998 and had wrongly obtained another one using an alias.
New York state has stepped up inspections of tour buses since the crash. Dozens of buses have been taken out of service after police found problems with logbooks, licenses or equipment.
After the indictment was announced, state Inspector General Ellen Biben released a separate investigative report finding the driver was able to exploit weaknesses in the state regulatory system as he kept driving despite previous license suspensions, his use of an alias and a criminal record.
Biben called for a series of improvements in the state bureaucracy to make sure commercial drivers are fit for the road. However, she noted that even though the Department of Motor Vehicles didn't know of his background and alias, Williams would probably have been able to obtain a valid license even if his past was fully known under current rules and laws.
"New York passengers and the public at large deserve to have the utmost confidence in the fitness and qualifications of bus drivers," Biben said. "There needs to be a higher level of scrutiny for licensing commercial bus drivers in this state."