Driver in deadly hit-and-run crash says 'accidents happen,' and 'people hit and run people all the time'
A driver who was arrested Wednesday after a deadly hit-and-run crash in Boston made no apologies before he was taken into custody, saying it was just an "unfortunate situation."
The Boston Police Department said in a news release Phocian Fitts, 23, of Brighton, Mass. was arrested on charges of motor vehicular homicide and leaving the scene of an accident after causing death.
The crash happened around 12:50 p.m. on Commonwealth Avenue, where police said that Fitts struck the victim, a man in his 80's, and then kept driving. Police took Fitts in for questioning sometime after the crash but was released.
The victim's name has not been released.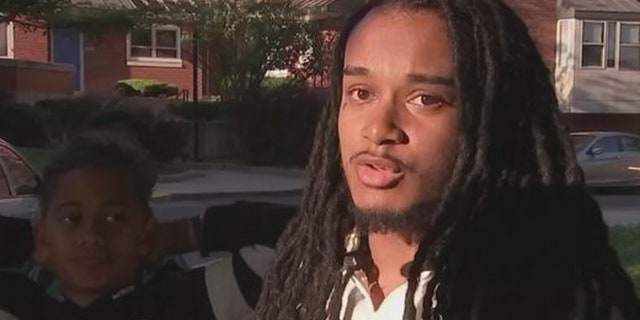 Hours later, Boston 25 News reporter Drew Karedes found Fitts, who confessed on camera to leaving the scene of the crash after striking the man.
"I was listening to my music and as I was driving I was driving too quick, I was driving too quick to the point where I couldn't really stop and it was a green light," Fitts told Boston 25 News. "As the guy was walking, the light was green, I'm driving and pressing the horn, pressing the horn beep beep, it was either I was going to die and crash into a pole. When it came down to it accidents happen."
The 23-year-old told Boston 25 in the exclusive interview that he is not "stone-cold killer."
"I didn't do nothing on purpose," he told the television station. "People hit and run people all the time, it just happened to be an unfortunate situation where I was driving."
INTOXICATED WOMAN SLEEPING ON TEXAS ROAD NARROWLY ESCAPES BEING HIT BY CARS, DASHCAM VIDEO SHOWS
Fitts spoke to Boston 25 News still wearing the disposable suit given to him during police questioning after his clothes were seized as potential evidence. The news station reported that police did not have enough evidence to arrest Fitts initially until he spoke to the Boston 25 reporter.
When asked if he should have stopped after striking the man, Fitts stood by his decision.
"First off, I was scared and worried because I didn't know what can happen, that's why I left I said God forbid, I hope he's OK," he told Boston 25. "I'm a real gangster, I'm a real gangster not in a bad way. I'm a gangster because I help out the community and I look out for the youth. I know that's why everybody got my back, my family. I'm not scared. It is what it is."
Boston Police said they are reviewing area surveillance video to check the green light, and are asking anyone who witnessed the crash to contact them.