Driver, 14 students hurt after school bus flips near Houston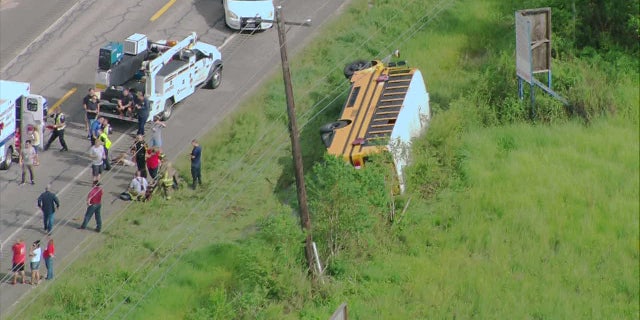 NEWYou can now listen to Fox News articles!
A school bus carrying about 50 middle and high school students flipped on its side into a ditch beside a rural road near Houston, sending 14 students and the driver to hospitals with non-life-threatening injuries.
Harris County Sheriff's Deputy Ralph Gonzales says the 15 appeared to have bumps and bruises and were taken to hospitals for precautionary examinations.
The accident happened about 3:30 p.m. Friday on Farm-to-Market Road 1942 near Crosby, about 35 miles northeast of Houston. Gonzales said the driver of the Crosby school district bus swerved the bus into a roadside ditch to avoid another vehicle.
Crosby school Superintendent Keith Moore said the bus was not equipped with seatbelts.