Dramatic Washington plane crash caught on camera; everybody survives
A small plane crashed over a busy street near Seattle Tuesday afternoon, damaging several vehicles but amazingly causing no serious injuries, officials said.
TERRIFYING RESCUE OF TEXAS TODDLER, BABY CAUGHT IN DRAMATIC VIDEO
Investigators said the single-engine Piper PA32 aircraft took off from Evertt's Paine Field in Mukilteo, Wash., around 3:30 p.m. Tuesday and started losing engine power soon after.
The dramatic crash unfolded on camera.
TEXAS TORNADO: CHURCH PARISHIONERS THANK 'GRACE OF GOD' FOR SAVING THEIR LIVES
The pilot, a man from Oregon, told police that he was losing too much altitude to return so attempted to land on Harbour Point Boulevard because it was clear, Q13 Fox reported.
On its way down, the two-passenger plane clipped powerlines and hit a street light, which raptured a fuel cell.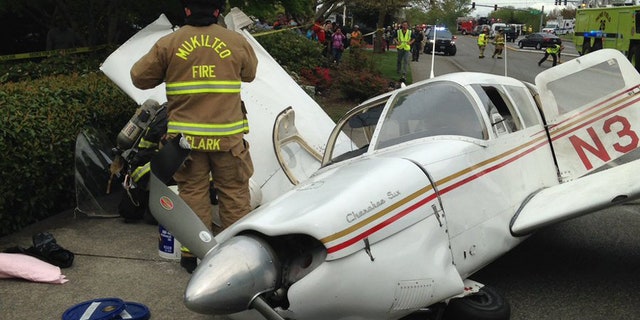 Despite the ensuring fire, no one was seriously injured and the pilot and his passenger walked away from the crash, investigators said.
"I'm so lucky," witness Amanda Hayes told KOMO News, adding that the plane's wing scraped her car as it came down. "I just said, 'Get down!' And before I know it, I could feel the heat on my face… and like the fireball and the wing clipped at the end."
She added: "When it was over, I wasn't sure if we were OK, if our van was OK. I don't know, that's probably the closest I've come to really thinking, 'oh this is the end.'"