'Dollar Store Grandpa Bandit' wanted by police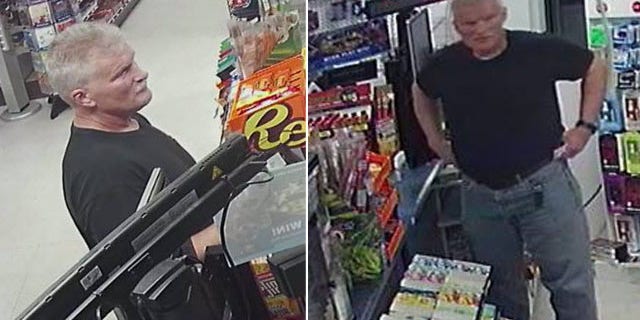 NEWYou can now listen to Fox News articles!
He's a really bad grandpa.
Cops nationwide are on the hunt for a crook they've dubbed the "Dollar Store Grandpa Bandit" — a silver-haired serial stickup man who has robbed at least seven Dollar Tree stores from upstate New York to Idaho.
The mustachioed marauder — who cops say is between 50 and 65 — first hit a Fishkill Dollar Tree in December 2016, and then went on a cross-country spree in his Dodge Charger in May and June this year, starting in North Greenbush and hitting stores in Michigan, Wisconsin, Nebraska, Wyoming, Utah, and Idaho, according to the North Greenbush Police Department.
His MO is to enter the store at closing time brandishing a weapon — sometimes a handgun, sometimes a stun gun or pepper spray — and then direct employees to empty all register and safes, authorities say.
He then forces the staffers into a back room where he takes their cells so they can't call the cops — and later ditches the phones in neighboring towns after he's made his getaway.
Given the senior's affinity for the discount chain, he may be a disgruntled former employee, cops said.
Click for more from the New York Post.