Dogs' discovery of Revolutionary War graves leads to preservation victory
In one of the most pivotal but often-overlooked battles of the American Revolutionary War, a group of Patriots led by Col. Andrew Pickens defeated a force of British Loyalists twice their number. In a surprise two-hour attack, Pickens' troops caught the British – teeming with confidence from recent wins in Savannah and Augusta, Ga. – off guard.
For nearly 240 years, many of those slayed soldiers lied untouched in cursory, makeshift graves – until recently.
An incredible sense of smell zeroed in on more than two dozen graves, according to Walker Chewning, president of the Kettle Creek Battlefield Association. Cadaver dogs surveyed about a quarter of the battlegrounds near Washington, Ga, sniffing out where soldiers could have fallen.
Chewning told Fox News "the use of cadaver dogs is something new in archaeological research" and certainly something the association will continue to utilize.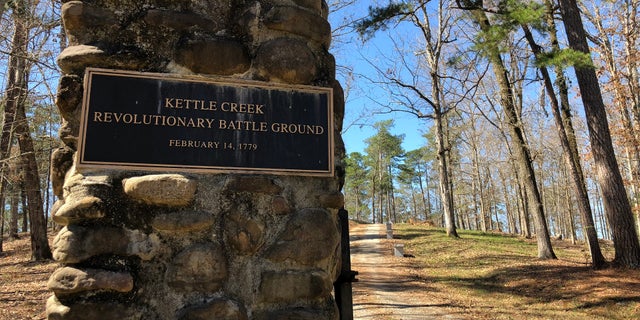 Archaeologists took these findings a step further in five spots with ground-penetrating radar and excavation. Archaeologist Tom Gresham called it a complicated process because "very few of these kinds of graves – battle-buried dead – have been excavated."
Gresham said they could not find any traditional burial markers like teeth or jacket buttons but did spot shallow pits with clusters of rocks.
This research helped the battlefield park earn federal money for an expansion. Kettle Creek Battlefield Association announced the acquisition of 180 additional acres – tripling the American Revolutionary War park's size – during the anniversary month of the hasty encounter.
"It just helps people connect our present generation with those who gave their lives to give us the greatest country in the world."
Between contributions from the Civil War Trust, Watson-Brown Foundation and the American Battlefield Protection Program, the preserved area expanded from 77 to 257 acres, for nearly $430,000.
In 2017, Kettle Creek was one of 32 sites across the country to receive a Battlefield Land Acquisition Grant. The program forked out more than $10 million to locations with similar causes.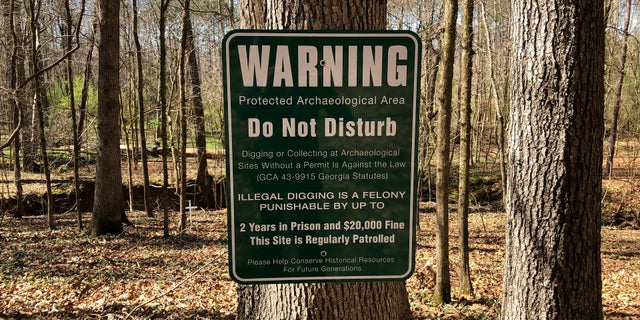 U.S. Rep. Jody Hice, R-Ga., said the joint program allows small communities who "work at it, they labor, they try to raise the money but they really are never able to come to the full extent of purchasing" to finally make ends meet.
"It just helps people connect our present generation with those who gave their lives to give us the greatest country in the world," Hice said.
Today, visitors will find a growing number of white crosses scattered throughout the park, marking where soldiers passed. Historians believe soldiers were buried where they died.
"That will help tell the story more precisely of where the troops were, where they were firing from, what positions they were defending," Gresham said.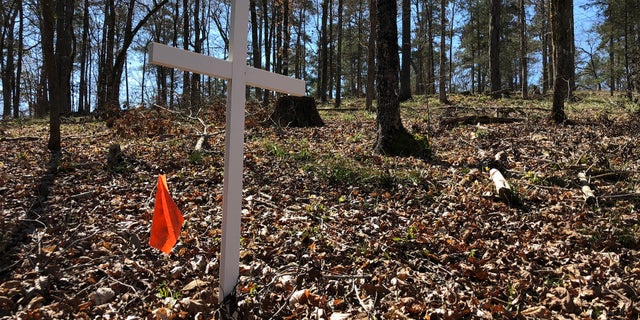 The specks of white will continue to spread as the excavation process repeats across the newly acquired grounds. Local preservation groups hope the park eventually covers all 400 acres of the battlefield.
Historians estimate up to 80 slayed soldiers decomposed throughout the wooded hills near Washington, Ga.
As a descendant of the land's original owner, Chewning said he has a "personal interest and public interest" in its preservation. "It's in the same condition it was when the battle occurred 240 years ago, so when you walk this site you are able to actually experience what the soldiers experienced that day, February 14, 1779."