Dog owner slapped with charges after Husky goes on animal 'killing spree'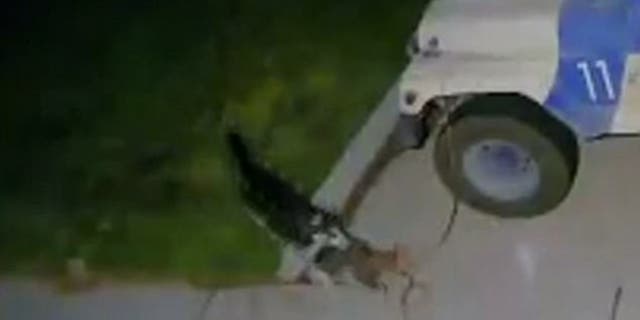 A dog owner is facing legal trouble after her Husky reportedly went on a killing spree last week that left nearly 30 animals dead in a Utah neighborhood.
The 4-year-old dog named Nikita was caught on surveillance video in the early hours of Memorial Day at the home of Trip Kiss in Toole, Utah, where he runs a petting zoo with his wife for children with disabilities, FOX 13 reported.
Kiss said the footage showed the dog running around his yard with two rabbits in its mouth.
"He was chewing our goose that was at the back end there, he dug out the rabbits in their enclosure," Kiss told the station.
In addition to the rabbits and the goose, Kiss said the Nikita killed five chickens and a turkey.
Kiss called police after he spotted the husky in his neighborhood with a chicken still alive in its mouth.
After police arrived, they discovered the same dog also killed 15 of another homeowner's chickens, the station reported.
"A second lady from a couple houses down came and told the officers that 15 of her chickens had also been killed by the same animal," Tooele Police Sergeant Jeremy Hansen told the station. "There was 12 at the first residence, then 15 chickens at the second residence for a total of 27."
The husky was captured and taken to a local shelter, according to the station.
Mackenzie Morton, the dog's owner, said Nikita had gone missing and said she found several dead chickens in a neighbor's yard while she searched for the dog, she told the station. She said she didn't want to wake up the neighbors, so she left her door open hoping Nikita would return.
"I didn't think she was going to go on a killing spree," Morton said. "I did not know that, at all."
The husky is currently under quarantine for 10 days, before an administrative hearing with the police chief will take place to determine the dog's fate.
Hansen said the dog could be returned to Morton with restrictions if deemed potentially dangerous. He noted that Nikita could also be given to an animal rescue or euthanized if determined to be dangerous, the station reported.
Morton was slapped with five misdemeanor charges of animal biting other animals and one count of animal running at large, according to the Sacramento Bee. The owner said she plans on paying for the damage that authorities estimate to be more than $1,350.