Dodgers fan scores $9 World Series tickets due to StubHub error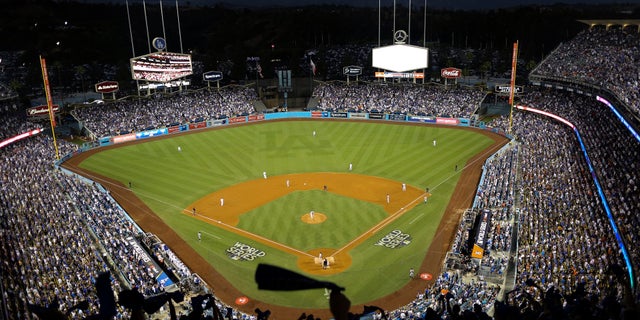 A Dodgers fan lucked out when he scored $9 tickets to Game Two of the World Series.
Jordan Benedict went on StubHub's website hoping to find some tickets to the game on Wednesday night between the Houston Astros and the Los Angeles Dodgers, KTLA reported.
He ended up buying two tickets for an astounding $9 a piece, despite other tickets for the series costing several hundreds of dollars each.
But Benedict was a little wary, considering it was such an amazing deal, he told KTLA, so he called StubHub to confirm.
THE STORY BEHIND THE MASSIVE AMERICAN FLAGS AT SPORTING EVENTS
At first, the ticket website told him that there had been an error in the system and all they could give him was a refund.
So he decided to call them back. And this time, he got an answer that was way better.
The second person he spoke to told him that they'd be able to give him two tickets for the cheap price he'd paid for seats at a similar location in the ball field, KTLA reported.
When they asked him if that arrangement was okay, he reportedly said, "Yeah, that's phenomenal, that's amazing, thank you so much!"
MLB'S HOME RUN BARRAGE AMID HOT WORLD SERIES SPURS DEBATE OVER JUICED BALLS
Benedict told KTLA he felt like "the luckiest person for that to happen, and for StubHub to make it a possibility for me."
A different fan who found the same $9 deal reportedly didn't quite have the same amount of luck, though.
When he was told about the system error, StubHub emailed him saying, "We've cancelled the following order, you won't receive the tickets. We're sorry it didn't work out," KTLA said.
StubHub reportedly only gave him a $50 voucher and he ended up spending $900 on other tickets to the game.