Documents say wind shifted minutes before Washington state firefighters were killed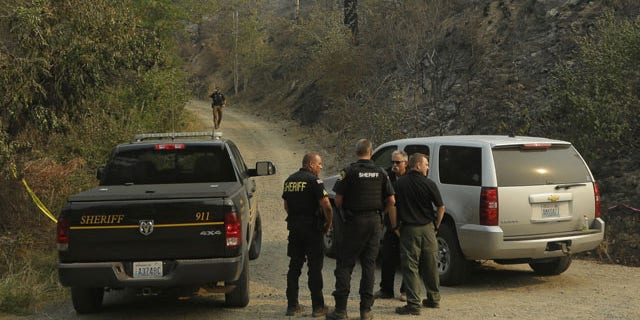 NEWYou can now listen to Fox News articles!
Seven minutes after a deputy radioed that the wind from a growing wildfire had shifted direction, dispatchers got a second call: A burn victim needed an ambulance. Five minutes later, another caller said several firefighters were trapped.
Within the span of 12 minutes, the wildfire in Washington state went from being just one of many lightning-sparked blazes burning across the Pacific Northwest to the scene of the deadliest single wildfire this year in the U.S. Three firefighters were killed after their engine rushed up a steep gravel road and crashed down a 40-foot embankment near the mountain town of Twisp. Before they could escape, they were overrun by flames.
Four other firefighters, who were nearby, were injured as they tried to escape on foot.
Dispatch records from the Okanogan County Sheriff's Office obtained by The Associated Press through a public records request detail the chaos of the Aug. 19 fire and coordinated response to the blaze that exploded during one of the driest and most explosive wildfire seasons on record. While the documents don't say why the crash occurred or what attempts were made to save the crew members, they illustrate a common problem with wildfires that has yet to be solved: How to stay safe in unpredictable shifting winds while doing a job that is high-risk even on the calmest of days.
"We had all these fires and the wind came up, and it wasn't just blowing one direction," Sheriff Frank Rogers told the AP. "It was blowing 180 degrees, every direction and hard. ... We're a rural county, so you're racing through trees, on curved roads. It's basically like you're driving in a forest, and if you know anything about forest fires, it's intense. So much heat and flame and smoke."
Several major fires were already burning in drought-stricken area when the first 911 call reporting the fire near Twisp came in. At the time the fire was just two acre but actively burning, the caller said. A few minutes later, the U.S. Forest Service started sending firefighters — including the three who later died — and equipment to the area, located about 115 miles northeast from Seattle.
Four fire engines with engine crews, a hand crew on foot, bulldozer and helicopter were part of the initial attack on the fire, said Keith Satterfield, a fire management officer for the Okanogan-Wenatchee National Forest.
"If we didn't have all the other fires we had going on we probably would have had more air resources," Satterfield said. Still, more air resources likely would likely not have made a difference in the outcome because the fire behavior was so extreme, Satterfield said.
The weather in the area had established a pattern in the days leading up to the deadly fire, Rogers said. Mornings were typically calmer weather, and each afternoon the wind would pick up substantially, whipping up the fires into the night.
Aug. 19 was no different. Just two minutes after the initial call warning that the winds had changed, all residents along the Twisp River were told to evacuate immediately, according to the dispatch records.
When the wind is traveling in one direction, firefighters know where to expect the flames to run and can set up firefighting operations on the other flanks of the blaze. When the winds shift unexpectedly, a previously safe area can quickly become engulfed by flames.
Swift-shifting winds have played a role in the deaths of other wildland firefighters, including 19 members of an elite crew who died after a wildfire trapped them in a brush-choked canyon near the Arizona town of Yarnell in 2013.
The three firefighters killed in Washington were part of a specially trained unit that is sent into danger ahead of everyone else to size up a wildfire. Satterfield would not talk specifically about their deaths, but noted that initial attack teams often go in blind except for what information is gathered during the initial 911 call and what clues can be discerned from smoke columns, weather patterns and the terrain.
"It's a very dangerous job and even though you plan and put everything in place to provide your safety, there's still that unknown that you're not in control of," he said.
The U.S. Forest Service has launched an investigation with experts from other agencies, said spokeswoman Stephanie Neal Johnson.
"It may be some time before we truly know what happened because we take our time and try to know all the aspects of it," she said. "A lot of things can work together to cause problems."
A memorial service for Tom Zbyszewski, 20; Andrew Zajac, 26; and Richard Wheeler, 31; is scheduled for 1 p.m. Sunday in Wenatchee, about 90 miles south of Twisp. Another firefighter Daniel Lyon, 25, remains in critical condition with burns over 60 percent of his body.