DNA tests reveal Nevada man falsely ID'd as baby kidnapped in 1964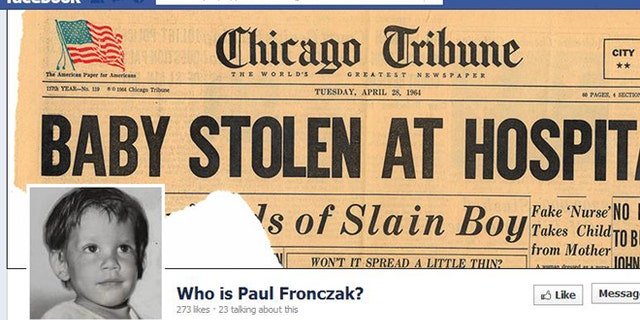 A Nevada man ID'd by the FBI as the baby who disappeared from a Chicago hospital in 1964 has learned that he wasn't the kidnapped child and is now on a mission to learn his real name and to find out who his birth parents are.
Paul Fronczak, of Henderson, has used two names during his life, but neither of them is his own, CBS 2 News reported.
"I don't know why, but it really started consuming my thoughts, like 'who am I?'" he told the station.
[pullquote]
The story begins in Chicago in 1964, when someone reportedly dressed as a nurse walked out the back door of Michael Reese Hospital with a baby boy named Paul Joseph Fronczak. The FBI looked at 10,000 children during a nationwide manhunt to find the child, the station reported.
More than two years later, a baby was found abandoned in a stroller in Newark, N.J. That child was taken to an orphanage and given the name Scott McKinley.
Later, the FBI decided that the McKinley baby was really the Fronczak child taken in Chicago.
So, Paul was returned to Chester and Dora Fronczak and, because they didn't have proof Paul was their child, the couple had to adopt him.
The years passed, and the kidnapping and adoption were never mentioned by the family.
When Paul Fronczak found a box of old newspaper clippings about the kidnapping, he began to ask his parents questions, but they weren't interested in offering answers.
"It was like, 'you don't need to see that; you are our son,'" he told CBS 2 News.
A series of DNA tests revealed that he is not the Fronczak baby who was kidnapped in Chicago, and now Paul Fronczak hopes to find the truth about who he really is, including who his biological parents are.
Click for the story from CBS 2 News.