Developer plans 200-foot-tall cross in Missouri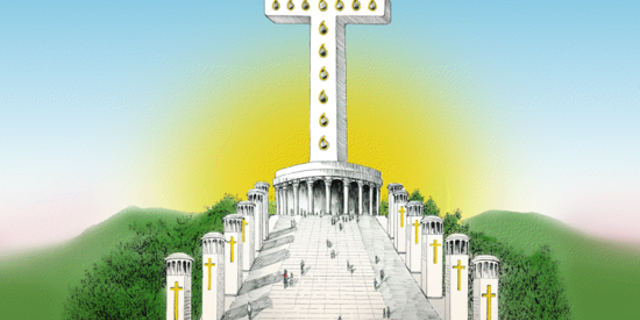 Public symbols of Christianity are under attack around the nation, but not in Branson, Mo., where county officials have approved a 200-foot cross that will rival American icons like the Statue of Liberty and the Golden Gate Bridge, according to its developer.
Kerry Brown said the "God-given vision" of the Branson Cross came to his father Dean two decades ago after he bought land atop Bear Mountain near the intersections of U.S. highways 160 and 65 in Branson, tourist mecca famous for its country music venues.
"It started as a vision with a 7-foot-tall cross just so people would have a place to go and meditate with the Lord," Brown told FoxNews.com. "As time went on, additional portions of the vision came to him and ultimately it was to build the largest cross that anyone has ever seen."
Brown hopes to have the $5 million project completed by the end of 2013. The cross will feature a 100-foot crossbeam and twin elevators to the 17-story-tall horizontal bar. The project is being funded by donations, and though Brown declined to say how much he's taken in, a website associated with the effort said some $410,000 has been raised so far. Much of the expense will go to preparing the mountaintop site.
[pullquote]
"My goal is to have much of the land prepared this year," he said. "Getting construction materials up the hill is going to need a 45 degree road to get to the top."
After receiving zoning approval from the Taney County Planning and Zoning Commission four years ago, Brown said fundraising for the project began in earnest in December.
"We've been working up to this for a while," he said. "But at this point, we still have quite a ways to go. Our dollar amount doesn't come near what we need at this point."
Brown, a former attorney now living in Branson, is hoping the estimated eight million people who travel in and out of Branson each year will propel the cross into an international tourist destination.
"I know St. Louis has the Gateway Arch and San Francisco has the Golden Gate Bridge, and those are all fantastic monuments, but they're all secular monuments," he said. "This will be the first monument to the spirit of man and there's a reason why it's being built in the heartland of the nation. It's absolutely in the right place at the right time and it's going to have ten times the spirituality as any one of those monuments."
Very little opposition to the project has been received by Brown, who said he hopes to make the Branson Cross free to all visitors.
"It's going to be a family-friendly, free admission venue where people can have an encounter with Jesus Christ," he said. "But we're getting ready to move forward on this pretty quickly here and I'm sure at some point somebody will come and try to step in the way."
Elsewhere in the nation, like in Woonsocket, R.I., public displays of Christianity are under fire. A national atheist organization is demanding that the city remove a cross from a 91-year-old memorial honoring hometown soldiers who paid the ultimate sacrifice for their county.
Although the memorial has stood in the parking lot of the Woonsocket fire station for decades with no complaints, the Wisconsin-based Freedom from Religion Foundation began last month calling for it to be stripped of the cross that sits atop it, claiming it violates the First Amendment's freedom of religion clause. The group also wants the Woonsocket Fire Department to remove "The Firefighter's Prayer" and a picture of an angel from its website.
Also last month, a federal judge approved a land swap that may end an 11-year legal battle over the right to display a cross honoring Veteran of Foreign Wars veterans in a remote part of the Mojave Desert in Barstow, Calif.
U.S. District Judge Robert Timlin in California on April 23 signed an order allowing the so-called Mojave Cross to return to Sunrise Rock. The National Park Service, under terms of the settlement, will transfer the title for the one-acre parcel in exchange for five acres of donated land.
The cross was erected in 1934 as a tribute to World War I veterans. In 2001, the American Civil Liberties Union sued, alleging religious symbols shouldn't be displayed on public land.