Democratic campaign bus dumps sewage into Georgia storm drain, police say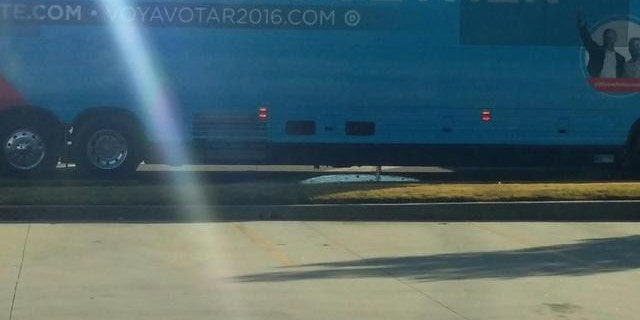 Police in Georgia say a bus chartered by the Democratic National Committee (DNC) was photographed dumping human waste into a storm drain Tuesday morning.
The incident happened at around 9:30 a.m. in Lawrenceville, about 30 miles northeast of Atlanta, near where people were waiting in line for early voting.
According to a police report obtained by FOX 5 News, witnesses saw the bus pull up near the storm drain. Someone then got out of the bus and opened the sewage drain. The report goes on to state that a large amount of "drying toilet paper" and a "foul smell" was left behind.
One of the witnesses later contacted police.
A DNC spokesperson told Fox 5 News the driver of the bus noticed the sewage tank was full and was leaking out. The DNC said the driver was concerned that driving further would put cars on the road at risk.
The DNC issued a statement later Tuesday describing the incident as "an honest mistake" and apologizing to local residents for "any harm we may have caused."
"We were unaware of any possible violations and have already taken corrective action with the charter bus company to prevent this from happening again," the statement added.
Police said they are working with local environmental officials to try to prevent the waste from entering the water supply.
The person who opened the sewage line could face charges for illegal dumping.
Click for more from Fox5Atlanta.com.