Dem Debate Reviews Are In & The Gloves Come Off in South Carolina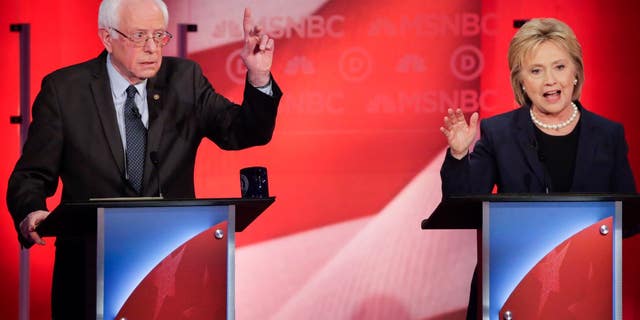 NEWYou can now listen to Fox News articles!
Not exactly full of fireworks, but full of substance last night in Milwaukee as the Democrats faced off for the first time since Bernie Sanders smashed Hillary Clinton in New Hampshire's primary.
Hillary Clinton opened several new lines of attack against Sanders. He questioned her judgement.
Dan Balz and Abby Phillip write in the Washington Post today,
Fresh off her double-digit loss in New Hampshire, Hillary Clinton sought to undermine surging rival Bernie Sanders here Thursday night, arguing that his expansive agenda for government action on health care, college costs and infrastructure investments is both impractical and far more costly than he has said. The debate turned fiery only in the closing minutes, when the two clashed over foreign policy and over comments by Sanders critical of President Obama. "I couldn't disagree more," Clinton said, accusing Sanders of leveling the kind of attacks on the president usually heard from Republicans.
Jonathan Martin in the New York Times writes,
Facing off against Senator Bernie Sanders on Thursday night, Hillary Clinton did not comport herself like someone who had just suffered a landslide loss in New Hampshire. She did not raise her voice or express anger. She did not demonize Mr. Sanders or suggest he would be a dangerous choice for Democrats. She remained calm as he pungently sought to highlight their differences. Instead, she behaved like someone heading into Nevada and South Carolina with every reason to be confident and little to fear but her own missteps."
There was some criticism from Ron Fournier on Fox that neither did a great job last night, "I think that both candidates really didn't do what I expected them to do. Hillary Clinton did not sharpen her message. She is still meandering all over the place What does she really stand for? It's hard to tell. And Bernie sanders for the love of god, how do you go through the debate and not mention e-mails or the state department went after the Clinton foundation?"
Clinton was endorsed during our show yesterday by the Congressional Black Caucus, but it was also revealed yesterday there's another State Department investigation into Clinton's time as Secretary of State. The Washington Post breaking news on that investigation yesterday. Tom Hamburger and Rosalind S. Helderman writing in the Washington Post:
"Investigators with the State Department issued a subpoena to the Bill, Hillary and Chelsea Clinton Foundation last fall seeking documents about charity projects that may have required approval from the federal government during Hillary Clinton's tenure as secretary of state, according to people familiar with the subpoena and written correspondence about it.
The subpoena also asked for records related to Huma Abedin, a longtime Clinton aide who for six months in 2012 was employed simultaneously by the State Department, the foundation, Clinton's personal office and a private consulting firm with ties to the Clintons."
On the Republican side, it's getting ugly between Trump and Cruz.
David Weigel and Katie Zezima write in the Washington Post, "Cruz's on-again, off-again battle with Trump is on again, and the senator and his allies intend to bring the front-runner down with the arguments that they believe worked in Iowa, where Trump came in second behind Cruz: Trump's attempted seizures of private property through eminent domain, the 1999 admission that he was "very pro-choice," and his confusing argument in favor of "single-payer" health care. A campaign TV ad released Thursday accuses Trump of buying influence "in a pattern of sleaze stretching back decades."
Donald Trump also says he's going to watch his mouth. In a speech last night, the front-runner says there will be no more foul language. He used the P-word in New Hampshire last week.
The ninth GOP debate is this Saturday in Greenville, SC.
There's lots of campaign events for us to monitor today,
1115EST -- Fmr FL Gov Jeb Bush holds a meet and greet. Mama Penn's Restaurant, Anderson, SC. LIVE via LiveU
1130EST -- OH Gov Kasich attends the SC Chamber of Commerce lunch. Columbia, SC. LIVE via LiveU
1230EST approx -- Dr Ben Carson addresses the Faith & Family Leadership Forum. Bob Jones Univ, Greenville, SC. LIVE
1315EST approx -- Fmr FL Gov Jeb Bush addresses the Faith & Family Leadership Forum. Bob Jones Univ, Greenville, SC. LIVE
1330EST -- OH Gov Kasich visits Dukes BBQ. Orangeburg, SC. LIVE via LiveU
Disturbing speech from Homeland Security Secretary Jeh Johnson yesterday warning that terrorists remain committed to targeting aviation. IT comes on the heels of a terror bombing of an aircraft that thankfully killed only the terrorist.
A newly published Al Qaeda newsletter says Usama bin Laden may have gotten the idea of 9/11 after seeing the 1999 crash of EgyptAir Flight 990 that crashed into the Atlantic Ocean killing all onboard. It's believed a jihadist co-pilot purposely crashed the plane.
Pope Francis arrives in Cuba today for a meeting the patriarch of the Russian Orthodox Church the first meeting since the split of the Catholic Church from the Russian Orthodox Church in the 11th century!
El Chapo may face Brooklyn trial.
46 prison guards arrested in sting at nine prison facilities in Georgia. The FBI say they were involved in a staggering array of crimes.
The U.S. and Russia say they've signed a deal that could lead to humanitarian aid and a cease fire in Syria.. as talks in Munich wrapped up.
For more news, follow me on Twitter: