Defense seeks to discredit UAE officer's RI maid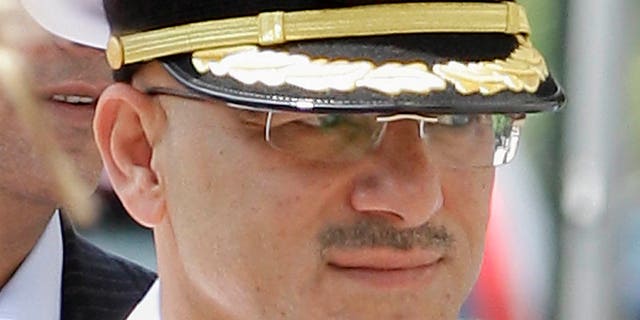 PROVIDENCE, R.I. – A defense attorney for a United Arab Emirates naval officer accused of keeping an unpaid servant in his Rhode Island home sought on Monday to portray her as a liar who left her former master a thank you note when she fled the home last year only to file a lawsuit months later seeking $200,000.
Col. Arif Mohamed Saeed Mohamed Al-Ali's former servant testified for the second time during his trial in U.S. District Court in Providence. Al-Ali's lawyer asked the servant, Elizabeth Cabitla Ballesteros, about leaving Al-Ali and his family a note thanking them for "everything" and for bringing her to the United States when she secretly left their large East Greenwich home last October.
"You didn't ask them for $200,000 in that letter, did you?" defense attorney Robert C. Corrente asked during his cross-examination.
Ballesteros responded that she complained Al-Ali was not paying her what she was owed. She said she didn't seek out a lawyer but authorized a civil suit to be filed months later against Al-Ali on her behalf.
"I complained regarding my salary because they hadn't been paying me," Ballesteros, who's from the Philippines, said through an interpreter.
The civil litigation is on hold in federal court.
Corrente also asked Ballesteros why she never contacted the police after leaving Al-Ali's home. She said she didn't know how to contact authorities and thought she was returning to the Philippines.
"What you did do is hire an attorney who wrote a letter to the colonel demanding he pay you $200,000," said Corrente, who also asked Ballesteros whether she knows what it means to tell the truth.
Ballesteros said that the night before she left for the United States last July with Al-Ali's family she was forced to sign a document affirming she was paid 12 monthly payments of $1,600. She said she never saw the money.
She also acknowledged she didn't read the contract she and Al-Ali signed for her employment in Rhode Island.
"I didn't read it," she said. "I was not allowed by my master to read it."
Ballesteros said she quickly deteriorated physically after arriving at Al-Ali's Rhode Island home, where she worked long hours cleaning, preparing meals for the family of seven, washing two cars daily and doing all the laundry and ironing.
She also said Al-Ali had her remove cobwebs from the front of the house when they moved in and the residence was much larger than he initially had indicated.
The judge threw out Ballesteros' first testimony because of problems with the translation. A new interpreter was retained to help her.
Once Ballesteros finished testifying Monday, prosecutors rested their case and Corrente asked the judge to acquit Al-Ali.
Corrente said the government has not proved Al-Ali misrepresented the job Ballesteros was hired for or lied to agents by providing them with a document indicating he had paid her.
Prosecutors oppose the motion. The judge is expected to make a decision on Tuesday.
Ballesteros began working for Al-Ali at his home in the UAE in 2007. She said he paid her less than half of what was promised in a contract, but she continued to work for him.
Al-Ali moved to Rhode Island to attend the Navy War College in Newport and has been renting a large Colonial house. He's charged with fraud in foreign labor contracting and lying to U.S. Immigration and Customs Enforcement agents. He denies the allegations.