Defense rests in UVA lacrosse player murder trial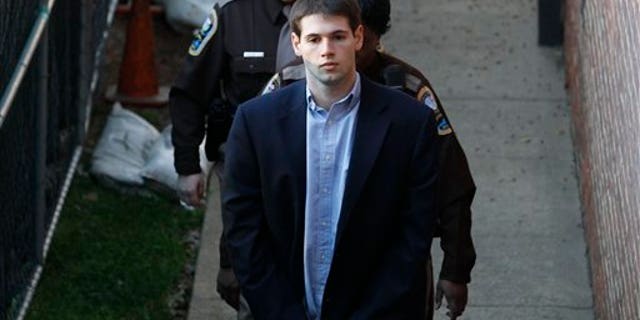 CHARLOTTESVILLE, Va. – The defense rested Saturday in the murder trial of George Huguely, the former University of Virginia star lacrosse player accused of murdering his on again-off again girlfriend, Yeardley Love.
Huguely declined to testify in his own defense.
Judge Edward Hogshire gave the jury his instructions in advance of closing arguments, telling jurors that they could find Huguely guilty of a lesser charge such as involuntary or voluntary manslaughter as well as murder, WSLS-TV reported.
Prosecutor David Chapman said he should also be found guilty of robbery, grand larceny and breaking and entering charges, in addition to first-degree murder.
The verdict could come as early as Saturday evening, and 24-year-old Huguely faces life in prison if convicted of the May 2010 murder.
The prosecution contends Huguely kicked down the door to Love's bedroom, then slammed her head against a wall, leaving her to die.
But Huguely told police after his arrest that he had gone to Love's apartment to talk to her and that she banged her own head against a wall. His lawyer said in an opening statement that Huguely thought Love had suffered only a nosebleed before he left the apartment.
Dr. Ronald Uscinski, the final witness for the defense, testified Saturday that Love's skull and brain showed "unquestionable head trauma … but not significant brain trauma," ABC News reported. Prosecutors had argued that blunt force trauma was Love's cause of death.
Uscinski's testimony was restricted, with some topics off-limits, because Huguely's defense team had emailed him information about a prosecution witness' testimony after the trial had begun.
The defense claimed that Love died from a heart attack caused by a combination of alcohol and Adderall, but Dr. Renu Virmani, a cardiac pathologist, had testified that "nothing was wrong with (Love's) heart that caused her death."
A defense attorney admitted that it was "amazingly thoughtless" to email details of Virmani's testimony to Uscinski, "but not calculated."
"This is not going to affect his testimony. He doesn't need that information," the lawyer said.
Huguely's trial, which began Feb. 6, originally had been expected to conclude by Friday. But defense attorney Rhonda Quagliana fell ill, delaying it all day Thursday, as well as Friday afternoon.