Death row inmate too sick to be executed, lawyers say
Lawyers for a death row inmate are asking Ohio Gov. John Kasich to spare their client's life, arguing that the 69-year-old killer of an 18-year-old man is in such poor health that he should be spared.
Alva Campbell uses a walker, relies on an external colostomy bag, requires four breathing treatments a day for asthma and emphysema and may have lung cancer, the lawyers said in a filing with the Ohio Parole Board.
Campbell was also the product of a violent, dysfunctional and sexually abusive childhood and continued to suffer abuse after he was placed in foster homes, the attorneys said.
"Alva's development suffered, and the chances of him becoming a responsible adult withered," wrote lead attorney David Stebbins, a federal public defender.
"Alva's development suffered, and the chances of him becoming a responsible adult withered."
Campbell's attorneys argue his case is similar to that of Joseph Murphy, spared by Kasich in 2011 ahead of his scheduled execution for slashing a woman's throat during a robbery.
The parole board recommended mercy for Murphy, noting his childhood growing up in West Virginia in which he was beaten, starved and sexually abused.
The board planned to hear arguments for and against clemency on Thursday. A decision is expected in about a week. Kasich has the final say. Campbell is scheduled for execution Nov. 15.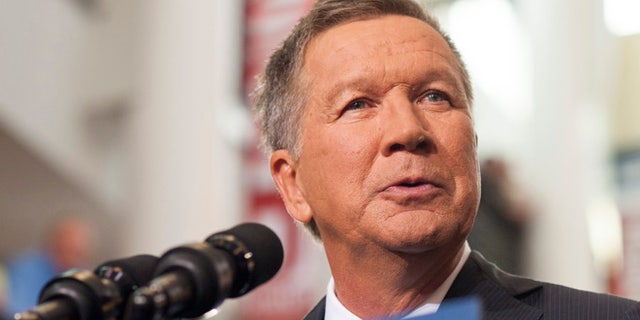 Campbell was in a wheelchair feigning paralysis when he overpowered a Franklin County sheriff's deputy on the way to a court hearing on April 2, 1997, on several armed robbery charges, records show.
Campbell took the deputy's gun, carjacked 18-year-old Charles Dials and drove around with him for several hours before shooting him twice in the head as Dials crouched in the footwell of his own truck, according to court records.
Franklin County Prosecutor Ron O'Brien opposes mercy for Campbell, who he calls "a career criminal from youth to old age."
O'Brien said it was ironic Campbell was raising health concerns to avoid execution given that he faked paralysis to carry out his crime.
"As judgment day nears he again resorts to ill health as a reason to enable an escape from his capital sentence -- and should not be permitted to do so," O'Brien said in a Tuesday filing with the parole board.
Campbell served two decades in prison for a fatal bar shooting in Cleveland in 1972. He was arrested in 1997 after a series of armed robberies in Columbus.
"It is easy to blame deceased parents or a childhood for mistakes or even crimes -- but not for two separate murders committed decades apart," O'Brien said.
The Associated Press contributed to this story.