Deadly school bus crash inspires Tennessee legislation to require seatbelts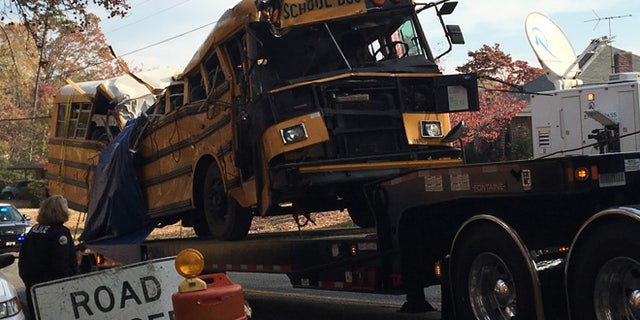 Tennessee lawmakers are pushing several bills that would require seatbelts on new school buses. The bills follow last year's deadly Chattanooga school bus crash that took the lives of six elementary school students and injured 20 others.
The driver of the bus, 24-year-old Johnthony Walker, was traveling at high speeds on an unauthorized route after picking up 37 students from Woodmore Elementary School. Walker swerved and hit a mailbox, which caused the bus to flip and hit a tree.
A State House committee approved a measure Tuesday that would require all new school buses to be equipped with seat belts.
School buses usually weigh below 10,000 pounds, which requires them to have a restraint system, according to Federal Motor Vehicle Safety Standards (FMVSS) from the National Transportation Safety Board, or NTSB. The restraints include lap, or lap and shoulder belts.
These same restraint systems are not required for buses that weigh over 10,000 pounds. Buses above this weight distribute crash forces differently than smaller buses or vehicles. As a result, the National Highway Traffic Safety Administration (NHTSA) uses compartmentalization to protect passengers.
"This requires that the interior of large buses provide occupant protection such that children are protected without the need to buckle-up," the NHTSSA website reads. "Through compartmentalization, occupant crash protection is provided by a protective envelope consisting of strong, closely-spaced seats that have energy-absorbing seat backs."
This year, 28 states introduced bills that address seat belts on school buses. Arkansas, California, Florida, Louisiana, New Jersey, New York, and Texas have passed similar seat belt laws for school buses in the past, but funding became an issue in some states.
There are more than 9,000 buses in Tennessee. Out of those, 1,885 buses currently have restraint systems. The national average costs for a bus with no restraints is $100,00 on average, with $10,000 extra to have installed restraints.
The new bills will require any school buses purchased after July 2019 to have restraints approved by the NTSB.