Deadly calls: domestic disputes among most dangerous assignments for police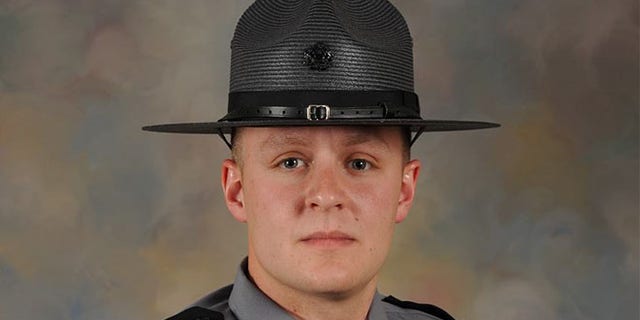 The killing of a rookie Pennsylvania state trooper one week ago was the latest resulting from one of the deadliest types of calls that police respond to – domestic disputes.
Of the 64 firearms-related killings of police in 2016, domestic disputes topped the list of circumstances ending in an officer's death, according to a report by the National Law Enforcement Officers Memorial Fund (NLEOMF).
Some 15 of the killings happened during the course of dealing with a domestic dispute, followed by "suspicious person" calls, during which 13 officers died, and attempted arrests, the NLEOMF report showed.
The killing of 23-year-old Landon Weaver last week followed a deadly domestic dispute call less than two weeks earlier, in Georgia, where two officers who were best friends died as they responded to a call in an apartment complex.
Someone's home can be a dangerous place to be for a police officer. They know where things are – guns, kitchen knives, a baseball bat, an iron.
"They're emotionally-fueled incidents," said Lt. Randy Sutton, a retired Nevada police officer and author who is a spokesman for Blue Lives Matter. "There's often alcohol or substance abuse involved, and it exacerbates the situation. Very often you can't talk someone down because they're so charged up with emotion."
In domestic calls, Sutton said, perpetrators have an advantage not duplicated in many other scenarios – they're on their turf, or familiar surroundings, in contrast to police officers responding to a call at the location.
"Someone's home can be a dangerous place to be for a police officer," Sutton said, "they know where things are – guns, kitchen knives, a baseball bat, an iron."
"The police have to try to control the movement of the people in the home, and very often there are children there."
When laws changed to mandate arrest in domestic violence, responding to such incidents grew more dangerous, Sutton said.
In California, the Riverside County Sheriff's Department is conducting an investigation into the killing of two officers in October who were responding to a domestic dispute call involving a man with a lengthy record and his parents.
The accused shooter, John Felix, has been charged in the murders of Officer Jose "Gil" Vega, a 35-year veteran of the Palm Springs Police Department who was set to retire at the end of 2016, and Officer Lesley Zerebny, who had just returned after giving birth to a daughter four months earlier. Zerebny had been with the department just 18 months. Vega was to have been off on that fateful day, but ended up working.
"So many times we get called to a domestic dispute and we wonder, 'What happened in this relationship that got so bad that police were called?'" said Lieut. William Hutchinson, who oversees training and knew both Vega and Zerebny well.
"We get called into an already volatile situation," Hutchinson said, "people are heated, it takes a while for them to calm down. The problem is that now you put in a third party, a stranger, the police officer, and we're the person who makes the final decision about what happens."
Often, Hutchinson said, the person calling police for help does so as a way to threaten or give pause to the other person in the dispute, and takes exception when officers move to make an arrest.
"People get angry and they flip," he said.
Felix was known to police, Hutchinson noted.
"He was a known gang member," he said.
Published reports said Felix had told his father shortly before Vega and Zerebny showed up that he wanted to kill police officers.
Retired police officers Dave and Betsy Smith have made domestic dispute calls a key part of their law enforcement training seminars across the country.

Dave Smith, who was a police officer in Arizona, said: "There's been an uptick in ambushes on police and often domestics are tied to that."
"A guy will kill Mama and the kids, and then wait for cops" to shoot at them, Smith said.
The deaths of Vega and Zerebny continue to gnaw at those in the Palm Springs Police Department.
"It's one of those situations that forever changes your department," Hutchinson said. "Everybody there has probably had the conversation with their spouse quitting. You wonder 'Why do we keep doing this job?'"
Hutchinson said that after the investigation into the shooting is concluded, the department likely will examine what changes need to be made in terms of training and procedures when responding to domestic disputes.
"We'll look at what went wrong, what went right," he said.