DEA, Florida police arrest 14 in pill mill bust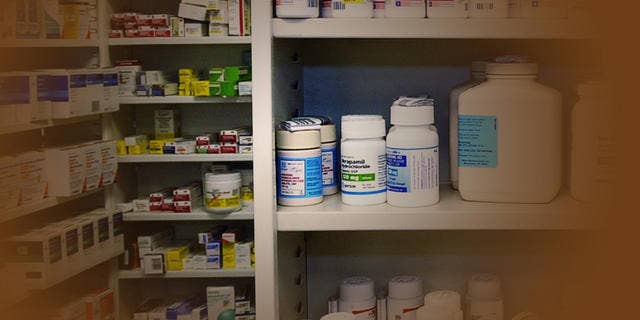 NEWYou can now listen to Fox News articles!
The Drug Enforcement Administration and Florida law enforcement today shut down a statewide ring of alleged pill mills that, according to police, were partially owned by two firefighters from Pompano Beach.
The investigation began in Vero Beach in November 2010 after the DEA received complaints about a pain clinic that was writing an extraordinarily large number of prescriptions for narcotics.
As the investigation unfolded, DEA agents uncovered six more clinics in Miami, Daytona Beach, Jacksonville, Sarasota, Gainesville and Pensacola in the Florida panhandle that were part of the same operation.
The undercover DEA agent leading the investigation in Pensacola told Fox News, "This is an unusually large ring. Most of these operations are one clinic, one owner."
Agents also discovered that the clinics were allegedly owned by municipal employees.
In all, according to the DEA, seven doctors and seven clinic owners or managers were arrested today. A press conference to announce the bust is planned for 4 p.m. EDT today.
"Thousands of prescriptions, maybe in the tens of thousands of prescriptions," DEA spokesman Rusty Payne told Fox News. "And these are pills that are not only going to addicts directly, they're also going to traffickers taking these pills up into other parts of the United States. And they're selling them on the streets for huge profits."
Florida has long been ground zero of the pill mill problem. Lax regulation and lack of a prescription drug monitoring program left the state wide open to unscrupulous doctors who would prescribe powerful narcotic painkillers like oxycodone for a fee. According to the DEA, this ring was responsible for thousands of prescriptions amounting to millions of pills.
Last year, Florida instituted a drug monitoring program, which the DEA says has been a tremendous asset in developing information about potential illegal operations. In addition, the state passed a law prohibiting pain clinics from dispensing medication. While that has made it more difficult for patients to obtain drugs illegally prescribed to them, it also prompted an explosion in applications for pharmacies, many of which are run by either owners of the pill mill, or an associate.
Recent studies by the Centers For Disease Control and Prevention have found more people die in the U.S. every year from prescription drug abuse than from illicit drugs like heroin and cocaine. Florida's Attorney General Pam Bondi says seven people die every day in the Sunshine State from abuse.
"The cost of prescription drug trafficking is people's lives," Bondi told Fox News. "I am proud to have partnered with all levels of law enforcement to bring down a drug trafficking ring that prescribed millions of oxycodone pills in just one year."
While Florida leads the nation in bogus pain clinics, many of the illegally prescribed drugs don't stay in the state. Drug traffickers in Kentucky regularly travel the "Flamingo Road" to Florida to obtain prescriptions and drugs that they bring back to sell in places like Louisville and Lexington. Typically, a single tablet of oxycodone will sell in Kentucky for five to eight times what it would in Florida.
But that is changing. Florida's crackdown on pill mills has tightened the supply. Narcotics that used to sell locally for $10 a pill now command as much as $80. DEA agents say addicts who can no longer afford prescription pain killers are turning back to illicit drugs like heroin to get their fix. Which, they fear, may spark an explosion in an older problem that had been on the wane.