DC police rescue puppy from sweltering car that got towed, arrest owner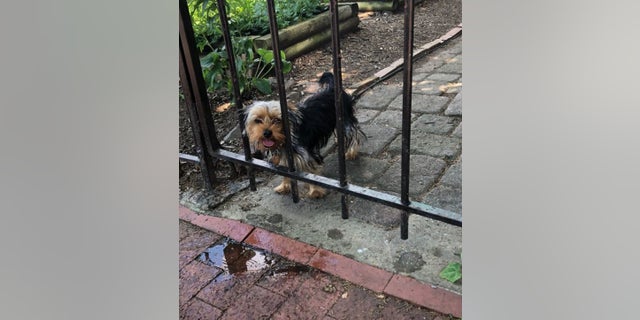 Police are warning pet owners to be vigilant this summer after freeing a panting Yorkie from a scorching hot vehicle in Washington, D.C.
A Chicago woman, identified as 22-year-old Josha L. Silk, flagged down police Monday afternoon when she realized her Hyundai Elantra had been towed with her "baby inside," according to a police incident report obtained by Fox News.
The Metropolitan Police Department said officers were able to locate the vehicle and found the 7-month-old puppy, named Jack, inside.
"At the time the dog was inside of the vehicle, temperatures were over 95 degrees," police described in the report.
The woman was arrested and charged with animal cruelty, police said.
As for Jack? He was rescued by humane law enforcement officers and is "doing fine," the Humane Rescue Alliance, which manages the Animal Care and Control facility in D.C., told Fox News.
The police department shared snaps of the rescued pooch on social media Tuesday, reminding residents to never leave a pet or child in a car unattended.
DOG RESCUED FROM CALIFORNIA FIRE IN DRAMATIC VIDEO
"It only takes minutes for temps to reach dangerous levels," police wrote on social media.
According to the National Weather Service (NWS), it can take as little as two minutes for a car to go from a safe temperature to an unsafe temperature.
"The sun's shortwave radiation heats objects that it strikes. For example, a dark dashboard or seat can easily reach temperatures in the range of 180 to over 200°F. These objects heat the adjacent air by conduction and convection and also give off longwave radiation which is very efficient at warming the air trapped inside a vehicle," the NWS explained on its website.
The risk is even greater during a heat wave, which is what Washington, D.C. is experiencing this week. The city was hit with an excessive heat warning Tuesday — with a heat index around 110 degrees, according to the NWS.