Dashcam video of University of North Texas student's shooting by campus cop released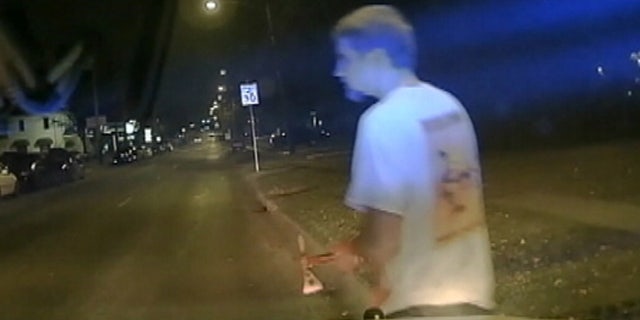 Texas authorities released dashcam video Wednesday showing the fatal shooting of a University of North Texas student by a campus police officer.
Ryan McMillan, 21, was shot and killed by UNT Police Cpl. Stephen Bean early Sunday after Bean responded to a report that McMillan was smashing car windows with an ax in a parking garage near the campus in Denton.
The video consists of two segments that are a total of 47 seconds long and show three separate angles. It shows Bean pulling up to the scene to confront McMillan, who was standing on a street corner with two other people. McMillan eventually steps off the curb and crosses in front of Bean's patrol car, holding the ax in his right hand.
Bean is heard repeatedly telling McMillan to "back away" as the officer draws his gun. McMillan ignores the warnings and is heard saying "shoot me" repeatedly as he walks told Bean. Eventually, the officer fires three shots. The Dallas Morning News estimated the time between Bean's arrival on scene and the shooting to be approximately 10 seconds.
Immediately after firing the shots, Bean is heard saying, "I've got a white man down with a hatchet in his hand, Fry and Oak [streets]," and he communicates with dispatch.
The university says the officer is on administrative leave during the investigation by the Texas Department of Public Safety. It may take two months for blood tests to come back that will show if McMillan had anything in his system.
The Texas Rangers investigation is still active, and we will continue cooperating fully with the Rangers until the investigation is completed," UNT Police Chief Ed Reynolds said in a prepared statement. "We look forward to the investigation's conclusion."
The university said McMillan was a sophomore transfer student from Fort Worth. Saturday was his 21st birthday.
Click for more from Fox4News.com.