Dangers Lurk in Some Spring Break Destinations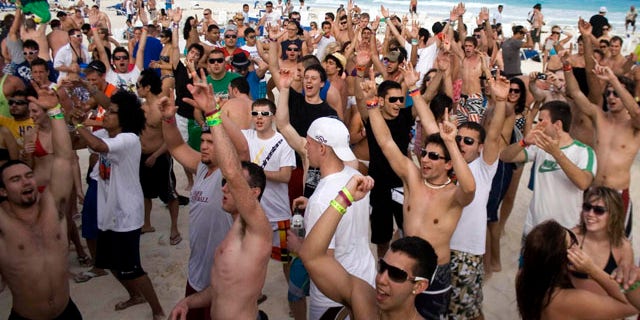 In the minds of most college students, spring break means excessive binge drinking, the occasional blackout, and sex with strangers.
That's scary enough for some on U.S. soil.
But what happens in a foreign country, where spring-breakers can easily get mixed in with common drug violence, or be abducted? According to the State Department, about 100,000 spring breakers will travel to Mexico and "the vast majority" will enjoy their vacation at the destinations listed here.
But perhaps not everyone.
"Several may die, hundreds will be arrested, and still more will make mistakes that could affect them for the rest of their lives,"according to the State Department.
Acapulco, Mexico: A popular spring break destination off Mexico's Pacific Coast, drug cartels have turned Acapulco into Mexico's most violent resort city. Texas Department of Public Safety Director Steven C. McCraw warns American tourists that "various crime problems exist in many popular resort areas, such as Acapulco, and crimes against U.S. citizens often go unpunished." The Mexican government's official accounting of drug cartel-related deaths in Acapulco jumped to 370 in 2010, up 147 percent from 2009. Rival drug cartels have battled police and each other within the city, as well as in nearby towns. Suspected drug traffickers continue to attack police in the adjacent resort area of Zihuatanejo.
Jamaica: The two international airports in Jamaica, Kingston and Montego Bay, have experienced regular violence, including shootings. In many popular resort areas, such as Negril, you should be safe as long as you are on resort soil. But once you step off resort property lines, all bets are off. According to a spring breaker who traveled to Negril in March 2010, "there is literally a line where you can see the sand changes color. Once you go into that different color, you are off the resort property and locals can come up to you and offer you drugs and other services." Even on resort property, there have been instances of sexual assault on U.S. tourists, some by resort staff. It is important to keep in mind that law enforcement is understaffed and ineffective in most areas of Jamaica, so sexual assault, drug trafficking, theft and violence receive little to no attention.
Cancun, Mexico: A typical spring break hot spot, Cancun attracts more than 100,000 U.S. college and high school students, not only for its beautiful beaches and world-class resorts, but because MTV began filming annual spring break shows there. "We get a lot of people traveling to Cancun, but Mexico is the place with the most [safety] uncertainty," said Tom Crosby, AAA's vice president of communications. Because of Cancun's growing population, crime is becoming more prevalent. Ross Thompson, co-founder of travel safety company Mayday360, says that the biggest danger for spring-breakers in Cancun is that they "act like they are still in the U.S. and that the U.S. law will protect them. That's wrong and that can add up to disaster," said Thompson. According to the U.S. State Department, "rape commonly, but not exclusively, occurs at night or in the early morning hours, and often involves alcohol and the nightclub environment." Aside from violence and crime, Cancun's strong undertow presents another danger. The undertow stretches along the beach from the Hyatt Regency all the way south to Club Med and, already this season, several U.S. citizens have drowned because of the ocean conditions.
South Padre Island, Texas: Right here in the U.S., South Padre Island is a relatively safe vacation destination, provided you don't stray too far south. Just 30 minutes away are two major Mexican drug trafficking hubs, Matamoros and Nuevo Progresso. Gangs are constantly competing for control of narcotics smuggling routes, which can be very dangerous for U.S. tourists traveling just south of South Padre Island. It long has been the practice of adventurous vacationers on the south end of South Padre to take advantage of the inexpensive alcohol and lower drinking age south of the border. Ongoing gang wars and firefights are expected to persist in the Matamoros area, into and beyond the spring break season.
Mazatlan, Mexico: Mazatlan, located just a few hundred miles north of Puerto Vallarta, has been perhaps the most consistently violent of Mexico's resort cities during the past year. It is located in Sinaloa state, home of the country's most violent cartel, the Sinaloa Federation, and bodies of victims of drug cartels and kidnapping gangs appear on the streets there on a weekly basis, according to global intelligence firm STRATFOR. "Underestimating the violence in Mexico would be a mistake for parents and students," said McCraw. "Our safety message is simple: avoid traveling to Mexico during Spring Break and stay alive."