'Dangerously cold air' expected to grip much of US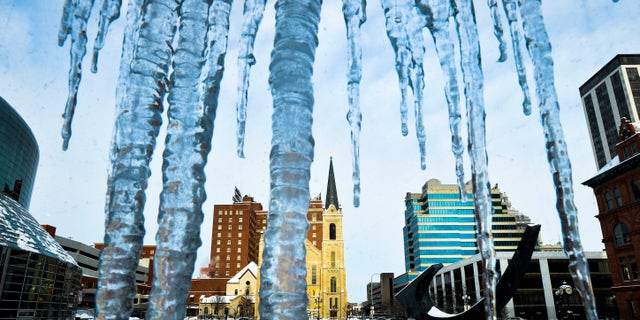 As snow starts to move out areas in the U.S. the National Weather Service warns of "dangerously cold air" moving into the northeast Wednesday into Thursday.
Cold temperatures in the northeast are expected to get colder as most of the region could see it drop into the single digits before the morning commute. An artic front could produce wind gusts up to 40 mph by the afternoon.
Ohio residents are also expected to feel the big freeze as well as temperatures are expected to drop below zero with wind chills as low as 20-30 below zero.
Snowfall made morning commutes in Ohio slick causing several accidents across the state.
Wednesday classes in Illinois were canceled as brutal cold and dangerous wind chills are expected to move in.
More districts will decide in the early morning to close while communities around the state are opening warming shelters.
In Chicago, where thousands of children walk to schools outside their neighborhoods, the district is keeping its school buildings open in case some still show up. Libraries and park district buildings also will be open during normal hours.
Temperatures in northern Illinois were expected to fall to about 7 degrees below zero overnight, with wind chills of minus 25 or colder, National Weather Service meteorologist Mike Bardou said.
He said people should stay indoors, if possible, and cover all exposed skin if they must go out because frostbite can occur within minutes in such extreme cold.
State police caution drivers to stock their vehicles with extra water, food and warm clothing.
Temperatures are expected to stay below zero in North and South Dakota. Schools throughout the state plan to cancel classes or delay them until the middle of the day Wednesday.
Residents of the Dakotas dealt with another day of bone-chilling temperatures Tuesday as they dug out Tuesday from a record-setting winter storm.
The Alberta clipper that passed through the two states Monday dropped from 2 to 5 inches of snow, shutting down schools, leading to numerous traffic crashes and setting weather records. The 5 inches of snow recorded in Sioux Falls broke the city's 63-year-old record for the date, 3.9 inches, the National Weather Service said.
With artic temperatures freezing the state, areas of California are experiencing winter highs.
Temperatures in Central and Southern California reached the 80s, setting records.
Santa Maria's airport on Tuesday recorded a maximum temperature of 82 degrees, 2 degrees above records for the day set in 1962 and 1918. Santa Barbara's airport also hit 82 degrees, well above the 78 recorded in 1964.
Highs in the low to mid-80s set or tied records in Camarillo, in Burbank and at UCLA.
In San Diego County, Escondido's 87 beat the 86 recorded in 1969, and Alpine topped a 1969 record with a high of 82.
The National Weather Service said the heat will continue through Wednesday but cooler conditions beginning Friday could drop some areas into the 60s over the weekend.
The Associated Press contributed to this report