Dallas Pee Wee league coach fired for supporting 'ineligible' player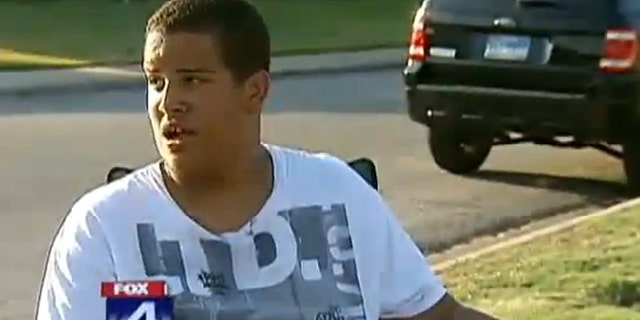 NEWYou can now listen to Fox News articles!
A Texas coach who came to the defense of his 12-year-old player who was told by a Pee Wee league that he was too big to play, has been fired.
The Mesquite Pee Wee Football Association ruled that Elijah Earnheart, at 6-foot-1-inch and 297 pounds, was not eligible to play with fellow seventh-graders due to his size.
Marc Wright, Earnheart's coach, came to his player's defense, he was told by league officials he could no longer coach. Wright said the league's president let him go because of the uproar the ruling created, and told him he was out of line.
"It makes me feel bad because I call myself supporting one of my players," Wright told MyFoxDFW.com. "The same guy who let me go told me this is what you are supposed to do as head coach. You are supposed to support every single one of your players."
"I'm angry. Marc Wright has 12 other boys out there on that field that's counting on him," Cindy Earnheart, Elijah's mother told MyFoxDFW.com.
Elijah was told last Sunday at the league's official weigh-in that he was too big to play, under league rules. League president, Ronnie Henderson, said he asked the boy if he was in sixth or seventh grade, then told him "no need going" any further when he told him seventh.
Cindy Earnheart said she was incensed and he was humiliated.
"They would not even let him weigh in on the scales like every single boy out there," she said. "He might be the size of a grown man but he's 12 years old, and he has feelings too."
Henderson said the rules are clear, and he exceeds the 135-pound limit for seventh-graders. "It says right there in black and white if you're in seventh or eighth grade or 11 or 12 years old in seventh grade and your weight is over 135 you cannot participate in our league," Henderson argued.
Elijah has been offered support from local coaches and offers to play for different teams, one offer came from as far away as San Diego.
"What I'm fighting for is to play on my team that I want to play for," Elijah said.
Click for more from MyFoxDFW.com.
The Associated Press contributed to this story.