Dallas man suspected of killing pregnant girlfriend arrested after high-speed chase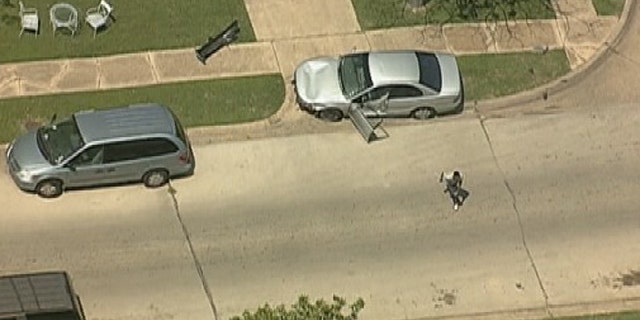 A Dallas man suspected of fatally shooting his pregnant girlfriend is in custody after leading police on a high-speed chase through a residential neighborhood Monday.
26-year-old Tyrone Christopher Allen was arrested after a four-hour standoff, MyFoxDFW.com reports.
Police allege in an affidavit that Allen shot Jackson in a house in Dallas' Hamilton Park neighborhood. A witness allegedly told officers he saw Allen drive off and that Jackson told him "Tyrone shot me" before she was taken to a hospital, where she died.
The witness, whom police didn't identify in the affidavit, told officers that Allen was Jackson's boyfriend and was the father of the unborn child, which didn't survive.
Officers saw Allen driving about 90 minutes after they spoke to the witness and tried to pull him over, but he refused. According to police, he fired on the officers during the ensuing chase, striking Officer Daniel Malouf in the stomach.
Authorities say Allen led police to the Hamilton Park neighborhood, where his car came to an abrupt halt as he hit a curb and the bumper flew off. He fled into a house across the street and barricaded himself inside.
Per policy, police would not say whether Malouf was wearing a protective vest. But the officer was released from a hospital in good condition hours after being taken there for treatment.
A school near the home where the suspect was barricaded was locked down, but a district spokesman later said the school was never threatened and that all students were safe.
Allen is being held on on a capital murder charge and further charges are pending, police say. He is listed in the Texas sex offender list for two convictions of indecency with a child by exposure, one in 2000 and one in 2001. He was sentenced to a year in prison on both occasions.
Click for more from MyFoxDFW.com.
The Associated Press contributed to this report