Dallas man allegedly kills 4, including girlfriend, in multi-home shooting spree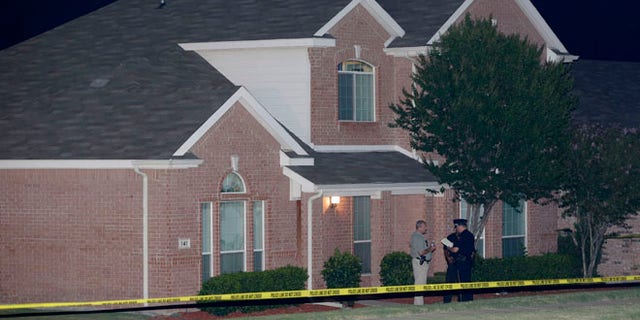 NEWYou can now listen to Fox News articles!
Dallas police are working to determine why a man fatally shot two people at a Dallas residence Wednesday night and then traveled to nearby DeSoto where he killed two others. Four others were shot and injured and an explosive device may have been used.
Erbie Bowser, a special education teacher and supplemented his time as a hip-hop dancer for the Dallas Mavericks, also allegedly wounded four people in the attacks. The first shooting took place at a house in southwest Dallas late Wednesday and another was about 15 minutes later in DeSoto, some 10 miles away, Dallas police Sgt. Warren Mitchell said.
Investigators arrested Bowser Wednesday night at the second crime scene. They said they believe a 'some type' of explosive device was used.
The victim's family members said Bowser showed up at his girlfriend's home in southwest Dallas around 10:30 p.m. Wednesday and opened fire. He allegedly fatally shot his girlfriend, Toya Smith, 43, and her daughter, Tasmia Allen, 17, MyFoxDFW.com reported. Smith's 14-year-old son, Storm Malone, and a 17-year-old family friend were also shot.
Police said Bowser fled to nearby neighborhood of DeSoto where he was involved in another shooting at his ex-wife's home. At that location he allegedly shot four more people, the report said. Officers caught up with Bowser and arrested him at the scene.
Neighbors said they heard a loud bang or possibly an explosion at the home. They also saw a 3-year-old child who was unharmed being taken away by Child Protective Services.
Smith's family members told the station that her relationship with the suspect was sometimes violent. They said they had been trying for years to get her to leave him.
A neighbor in DeSoto, Tommy Johnson, said he heard a loud boom Wednesday night coming from the direction of the home where the victims were later found.
"We thought it was coming from upstairs, because the kids are always upstairs making noise," Johnson said. "I went up and asked, 'Did y'all hear anything?' and one of my daughters said it came from outside. So I peeped out the front and that's when I saw a bunch of officers walking down the sidewalk and about 10 houses up."
Franks said she could not confirm that a grenade or other explosive device had been used in the DeSoto attack, pending the results of an ATF and Dallas bomb squad investigation.
Neighbors wearing nightclothes came out of their homes before dawn Thursday to watch as police investigated the DeSoto crime scene.
The Associated Press contributed to this report