'Cute puppy' brought into Illinois police station turns out to be coyote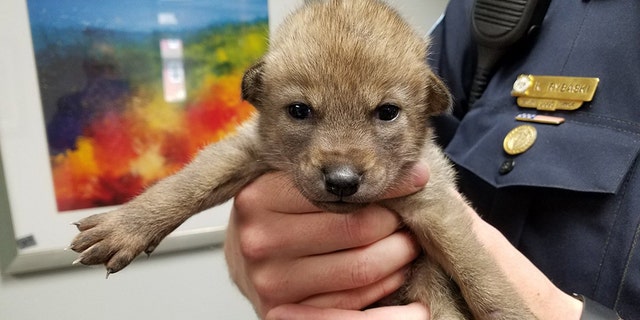 Call it a wild surprise!
Police in Illinois shared a snap of a "puppy" on social media.
"This cute puppy was brought to the PD after a concerned resident found it alone on the side of a busy road," Bartlett police wrote in a Thursday tweet. "Actually, the puppy turned out to be a coyote!"
Authorities added that the canine "was quite the attraction at the PD before he was brought to our friends at Willowbrook Wildlife."
BOBCAT MISTAKEN FOR DOMESTIC KITTENS BROUGHT INTO TEXAS HOME
The girl coyote pup was dehydrated, NBC Chicago reported Friday.
"If she progresses nicely and we don't find any other issues over the week, we will most likely transfer her to another rehabber who has young pups close to her size," the wildlife center in Glen Ellyn told the news outlet.
Willbrook Wildlife Center provided an update on the pup Wednesday.
"The coyote pup is still at Willowbrook receiving supportive care," wildlife specialist Rose Augustine told Fox News in an email. "The animal received fluids one to two times a day to combat the dehydration it originally presented with. It has also started eating well on its own, which is a good sign the animal is recovering from its initial debilitation."
She added, "If the animal continues to progress, we will be in contact with other local wildlife rehabilitators to find a facility that has other similarly-aged coyotes so it can be raised with other animals of the same species."