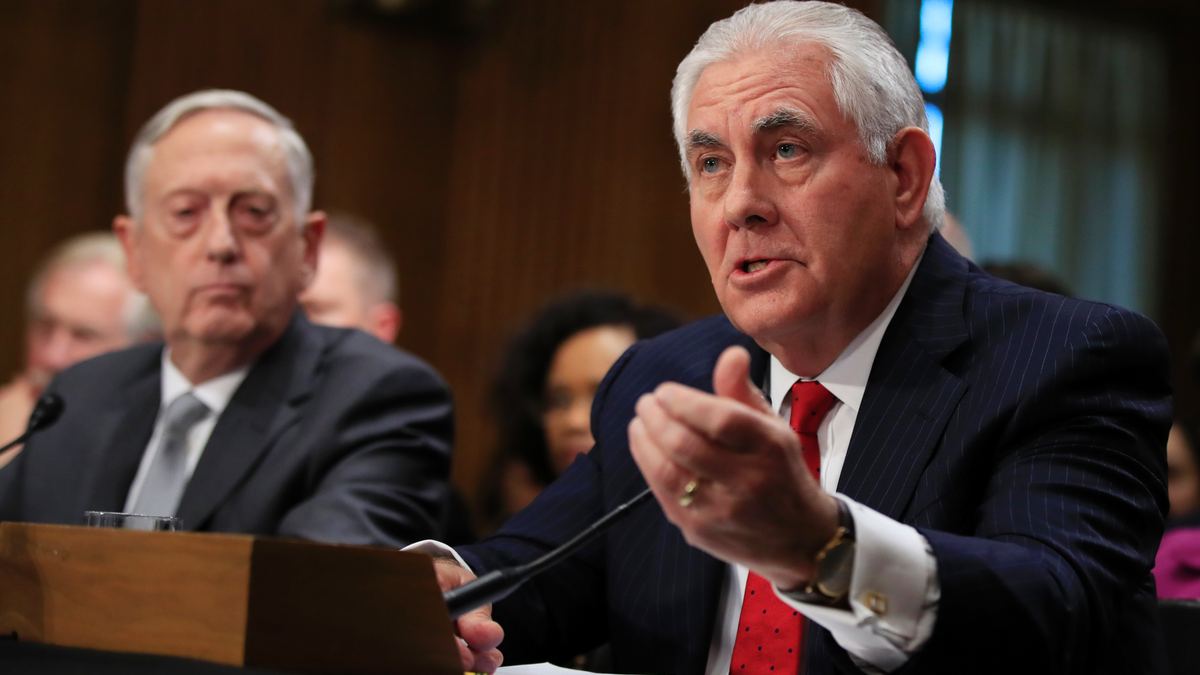 WASHINGTON – Top U.S. national security officials have warned congressional Republicans and Democrats demanding a new war authorization that existing laws governing combat operations against terrorist groups are legally sufficient and that repealing them prematurely could signal the United States is backing away from the fight.
During testimony Monday before the Senate Foreign Relations Committee, Secretary of State Rex Tillerson and Defense Secretary Jim Mattis urged Congress to tread carefully. If lawmakers are compelled to replace the post-Sept. 11, 2001, laws, the two secretaries cautioned them against imposing restrictions and conditions on American military forces that allow their enemies "to seize the initiative."
Tillerson and Mattis said President Donald Trump doesn't have permission from Congress to attack North Korea, but they indicated the U.S. Constitution gives him that power in certain circumstances where U.S. citizens and national security interests are being imminently threatened.
The response troubled several Democrats who have expressed concerns over Trump's confrontational statements toward North Korea and its budding arsenal of nuclear weapons. Sen. Chris Murphy, D-Conn., asked if the act of possessing a nuclear weapon capable of striking the U.S. qualified as an imminent threat, but both witnesses declined to answer.
"Secretaries Tillerson and Mattis's responses to my questions about the Administration's war powers in North Korea were very worrying," Murphy said. "The fact is, no president has unlimited power to start a war without congressional approval."
Murphy and several other Democrats are planning to introduce legislation that would prohibit Trump from starting a pre-emptive war against North Korea, absent an imminent threat or without express authorization from Congress.
The testimony from Tillerson and Mattis came as the deadly ambush in Niger earlier this month is igniting a push among many lawmakers to update the legal parameters for combat operations overseas.
Roughly 800 U.S. service members are in Niger as part of a French-led mission to defeat the extremists in West Africa. There are hundreds more American forces in other African countries.
The bulk of the nearly three-hour hearing centered on arcane but crucial laws known as authorization for use of military force. One, to fight al-Qaida, was approved a week after the Sept. 11 attacks. A separate authorization for the war in Iraq approved by Congress in 2002 also remains in force.
Tillerson and Mattis said if Congress does pursue a new authorization for foes such as Islamic State militants, it's imperative the existing laws not be rescinded until a new one is fully in place. Tillerson and Mattis also said any new war authorization, like the existing ones, should not have any geographic or time restrictions so as not to tip the enemy off.
"We cannot put a firm timeline on a conflict against an adaptive enemy who would hope that we haven't the will to fight as long as necessary," Mattis said. "Instead we must recognize that we are in an era of frequent skirmishing, and we are more likely to end this fight sooner if we don't tell our adversary the day we intend to stop fighting."
A growing number of congressional Republicans and Democrats, many of whom were startled by the depth of the U.S. commitment in Niger and other parts of Africa, have been demanding a new war authorization. They've argued that the dynamics of the battlefield have shifted over the past 16 years and it's past time to replace the post-Sept. 11 authorization to fight al-Qaida with a law that reflects current threats.
Sen. Jeff Flake, R-Ariz., highlighted the fact that none of the 21 members of the committee were members of the Senate when the 2001 war authorization was approved. Flake and Sen. Tim Kaine, D-Va., are sponsoring legislation for a new war authority for operations against the Islamic State group, al-Qaida and the Taliban.
Flake said he understood the reluctance expressed by Mattis and Tillerson not to telegraph when U.S. troops might depart a particular war zone. But he said that concern is "overwhelmed in a big way by not having Congress buy in, and us not having skin in the game."
"It simply allows us to criticize the administration, Republican or Democrat, if we don't like what they're doing because we haven't weighed in," Flake said.
U.S. troops also are battling an enemy — Islamic State militants — that didn't exist 16 years ago in a country — Syria — that the U.S. didn't expect to be fighting in. Nor did the 2001 authorization anticipate military confrontations with the Syrian government. Trump in April ordered the firing of dozens of Tomahawk missiles at an air base in central Syria, and American forces in June shot down a Syrian Air Force fighter jet.
Beyond that, Trump has approved a troop increase in Afghanistan, the site of America's longest war, and the U.S. backs a Saudi Arabia-led coalition carrying out airstrikes in Yemen.
But previous attempts to ditch the old authorization and force Congress to craft a new one have failed.
"So far, Congress has been unable to bridge the gap between those who see a new (war authorization) as primarily an opportunity to limit the president and those who believe constraining the commander in chief in wartime is unwise," said Sen. Bob Corker, R-Tenn., the committee chairman. "And unfortunately, the inability to reconcile this divide without threatening the existing authorization has allowed the status quo to prevail."
___
Associated Press writers Andrew Taylor and Josh Lederman contributed to this report.
___
Follow Richard Lardner on Twitter at http://twitter.com/rplardner