Cub of well-known Wyoming grizzly believed killed by car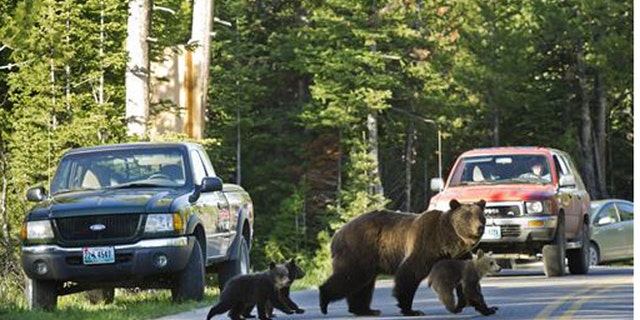 NEWYou can now listen to Fox News articles!
CHEYENNE, Wyo. – A car has killed the only cub believed born this year to one of a handful of Grand Teton National Park grizzly bears popular with tourists and wildlife photographers for their habit of hanging out near roadsides with their young offspring.
The cub died after being hit Sunday night. A male born earlier this year, he probably belonged to a popular grizzly dubbed 399 but that won't be known for sure until DNA test results come back, park spokesman Andrew White said Monday.
Earlier that night, a vehicle struck an adult female black bear a few miles away. Park officials warned drivers to watch out — especially at dawn and dusk.
"It's important to obey posted speed limits, maintain a safe following distance behind other vehicles, and be especially watchful around dawn and dusk when wildlife are more active," Superintendent David Vela said in a release.
Park officials said they didn't know who hit the bears or what the circumstances were because neither driver reported the collisions.
Grizzly 399 has delighted visitors and photographers for years. She's had triplets three years in a row, but the aging sow is unlikely to have many more offspring.
"Twenty years old is certainly getting up there in years for a grizzly," White said.
If she finds a mate soon, however, she could yet have a cub next year. Grizzly bear mating season begins in May and goes through mid-July.
One of 399's offspring, female 610, also has been known to linger with her cubs near roads and the inevitable crowds of tourists who stop to watch. Biologists speculate the behavior keeps away male grizzlies, which are known to kill cubs not their own.
This year, grizzly 399 emerged from hibernation with just one cub but still drew plenty of attention.
The cub's death comes as the U.S. Fish and Wildlife Service plans to remove the region's grizzlies from federal protection as a threatened species.