Crews Contain Spill After Train Derails in Wash.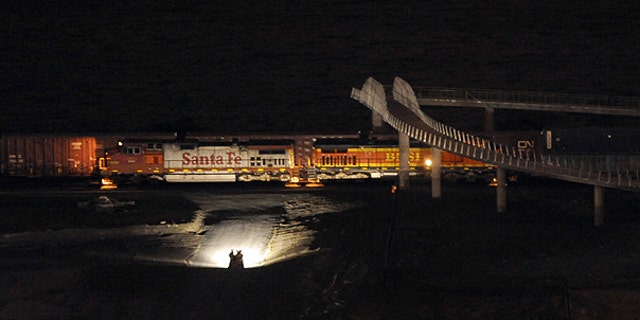 SEATTLE -- A railroad spokesman said Sunday it might take three weeks to remove all debris from the site where a freight train derailed and sideswiped another on the banks of Puget Sound, spilling a small amount of a hazardous chemical.
Four of the 14 cars that derailed late Saturday were tankers that each contained 15,000 gallons of lye, a chemical used as a drain cleaner and for other purposes.
About 50 gallons leaked, with some of it seeping into the sand and some being bagged in plastic by response teams, said BSNF Railway spokesman Gus Melonas.
None of the lye spilled directly into the water, but the derailment prompted a quick response from Coast Guard, as well as the state Ecology Department, because of concerns the chemical could harm aquatic species. The Coast Guard patrolled the area to keep boaters away.
The crash happened near a golf course in University Place, about 30 miles south of Seattle.
Twelve cars from a train heading from Portland, Ore., to Vancouver, British Columbia, derailed and struck rail cars from a train hauling garbage in the other direction. Two cars from the southbound train derailed.
About 50 trains a day use the two sets of parallel tracks between Seattle and Portland. One of the two main lines reopened Sunday afternoon, and the other could be up and running by early Monday, Melonas said.
Backhoes and other heavy equipment were on site as workers put the derailed cars upright and began pumping the lye into tanker trucks.
Some of the cars were being re-railed, and many would be scrapped.
No one was injured, and Melonas said no evacuations had been ordered even though homes are in the area.
"Not much of the chemical leaked, and there were no vapors," he said. "A hazmat team determined that there was no public threat."