Crashes leave at least 5 dead as Northeast hit with icy weather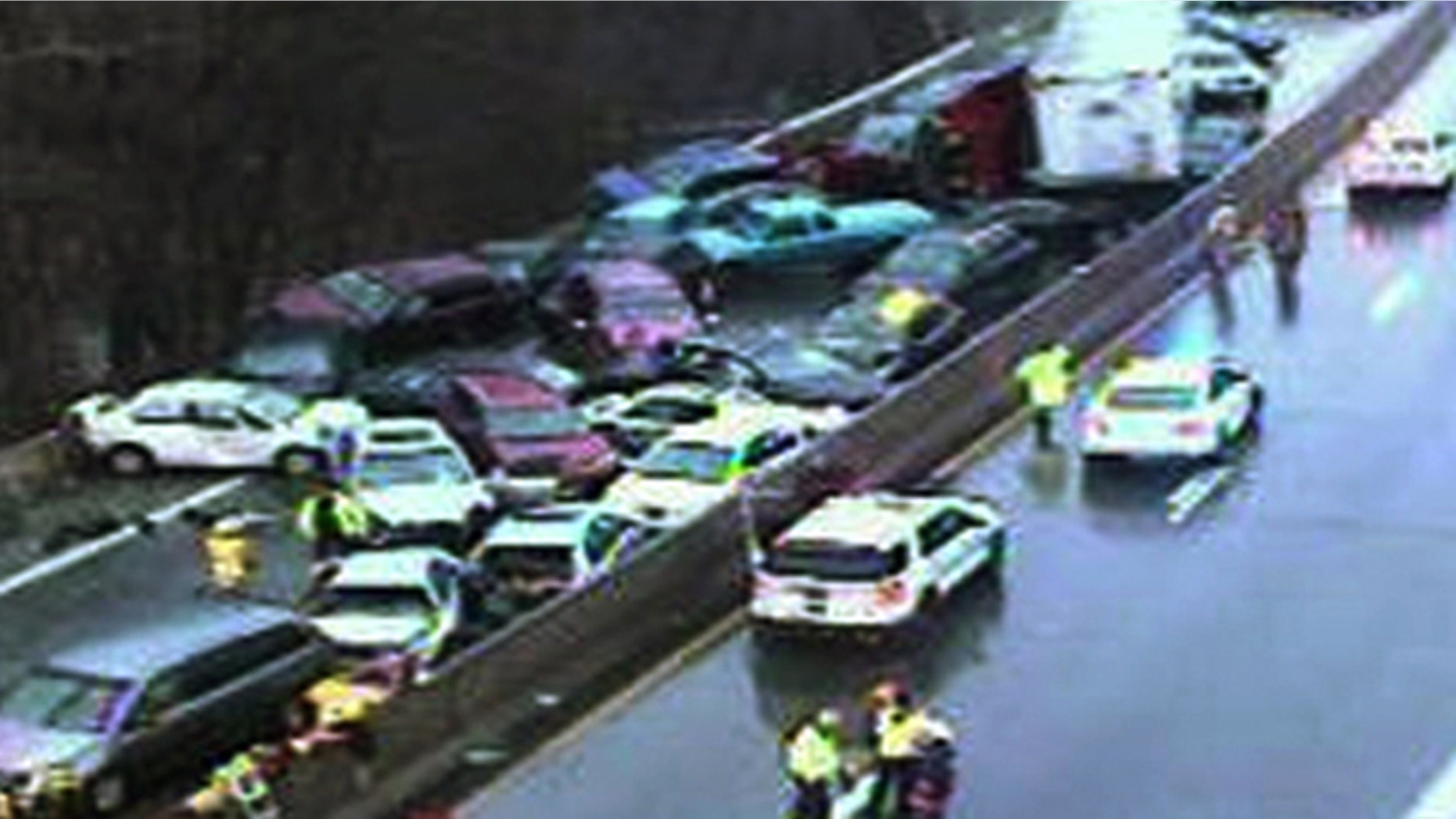 At least five people across the Northeast were killed Sunday in crashes caused by rain "flash-freezing" on roads.
A crash involving 30 to 50 vehicles on Interstate 76 outside Philadelphia killed one person, and two others died in a crash involving multiple vehicles on nearby Interstate 476, police said. In northeastern Pennsylvania, a man was killed after his car overturned on an icy road and he was thrown from it and hit by a commercial vehicle. In Connecticut, police cited slippery conditions in a crash that killed an 88-year-old woman who struck a utility pole in New Haven.
Pennsylvania Department of Transportation spokesman Eugene Blaum called travel conditions "very hazardous" due to light rain falling onto cold surfaces, creating a sheet of ice.
"This is the worst type of winter precipitation to combat, because it can freeze instantly and it doesn't need to be the whole pavement for vehicles crossing it to have problems," Blaum said.
The National Weather Service warned Sunday night that temperatures were expected to drop below freezing in areas from northern Maryland into Philadelphia and up through northern New Jersey. Any remaining moisture on roadways and sidewalks could re-freeze, and drivers were urged to use caution until conditions improve. Temperatures were expected to hit the 40s by midday Monday in the area.
Kaitlyn Maier grew up in upstate New York but said that didn't prepare her for the icy conditions she encountered trying to get from her home in Philadelphia to her niece's baptism.
"I've driven through snow a lot, and this isn't like anything I've ever driven in," Maier told The Associated Press.
She came upon the I-76 wreck moments after it happened and saw a jumbled line of cars extending around the bend ahead of her. "We were stopped for a while on the side of the road. I was going less than 10 mph, but I had no control of my vehicle."
Maier said emergency responders directed her and other drivers to turn around on the highway and drive eastbound on the westbound side to the next exit.
Within the next several minutes, Maier saw two cars collide and two other accidents that had just happened. They decided to stop at a diner to wait until the roads cleared.
In New Hampshire, parts of major highways were closed as ice caused dozens of accidents. WMUR reported that at one point Sunday afternoon, both sides of Interstate 93, the state's major thoroughfare, were closed due to accidents. As of late Sunday afternoon, the station reported that approximately 45 accidents had taken place. State officials told the station that at one point they had no tow trucks or ambulances to respond to emergency calls.
In the Pacific Northwest, wind and rain caused havoc for residents of the Seattle area. Downed trees causing power outages were reported in some parts of the city, while waterlogged roads made driving difficult.
In eastern Oregon, highway officials partially reopened Interstate 84 Sunday after a massive crash blamed on black ice Saturday closed more than 160 miles of eastbound lanes. Rain was expected in western Oregon Sunday and Monday, but not as much as fell on Saturday, when 1.8 inches of rain in Portland sent some untreated sewage into the Willamette River.
Dozens of spinouts and accidents were reported from northern New Jersey to southern New Hampshire on Sunday and treacherous conditions forced the closure of the New York State Thruway from Newburgh to New York City during the morning. The Metropolitan Transportation Authority warned travelers on New York City's Metro-North commuter railroad to beware of ice on staircases, platforms and parking lots.
The Associated Press contributed to this report.