Crash between a light-rail train and SUV kills 3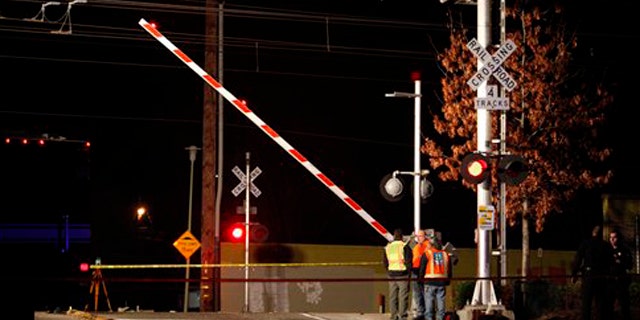 NEWYou can now listen to Fox News articles!
SACRAMENTO, Calif. – The driver of an SUV drove around a crossing arm and ignored flashing warning lights before the vehicle was struck by a light-rail train in Sacramento on Saturday, killing an infant and two adults, authorities said.
The other person inside the Nissan Pathfinder, a woman in her 30s, was taken to a local hospital with serious injuries, said Niko King, assistant chief with the Sacramento Fire Department. Six of the roughly 50 passengers on the light rail train suffered minor injuries and were taken to a hospital, he said.
King and a spokeswoman for the transit line said video from a camera at the crossing clearly shows the SUV driving around the crossing arm. The light rail followed two Union Pacific freight trains, which use separate tracks, and the arms had remained down during the interval, said Alane Masui, spokeswoman for the Sacramento Regional Transit District.
"They were down after the UP trains and before the (light rail) train approached, so the crossing arms were properly working," she said.
She said the length of time between the freight trains clearing the intersection and the light rail train crossing it had not yet been determined and would be part of the investigation. Investigators also were reviewing video from a camera mounted on the light rail train.
The collision, in a working class neighborhood south of downtown, occurred shortly after 4 p.m. and pushed the Pathfinder about 30 yards from the point of impact.
"All I heard was a big bang, and I saw a light-rail train heading south with a big truck smashed on it," said Ravin Pratab, 42, of Davis, whose car was among those waiting for the train at the rail crossing, on the opposite side of the tracks from the Pathfinder.
The train was going about 55 mph at the time, a typical speed for that location.
Authorities did not release the identities of those in the Pathfinder or their relationship. A man and woman in the vehicle, both in their 40s, died at the scene while the baby was pronounced dead at a hospital. Firefighters said one had been ejected.
The light rail system carries an average of 50,000 passengers a day, with lines stretching from the state capital to its suburbs in the north, south and east.
Masui said there are four sets of tracks at the crossing -- two for freight and two for light rail so trains from both systems can run in either direction.