Crane operator rescued nearly 200 feet above downtown Tampa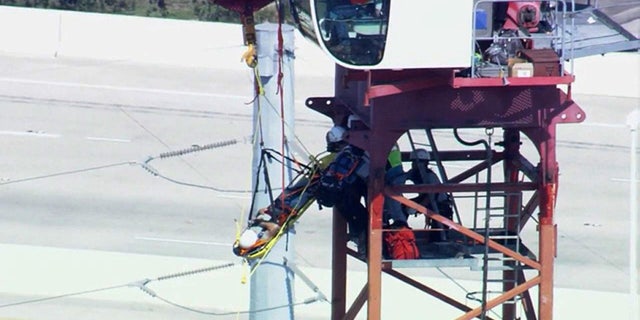 Emergency crews helped a crane operator who apparently suffered a medical episode nearly 200 feet in the air during a dramatic rescue in downtown Tampa on Wednesday.
Tampa Fire Rescue told Fox 13 that someone working in the cab of the crane needed immediate medical attention.
Emergency personnel climbed up the crane and trapped the worker to a stretcher, which was lowered to the ground – with a firefighter also aboard. An ambulance was waiting on the ground.
POSTAL SERVICE, CITING LOSSES, SEEKS HIGHER STAMP PRICES
The worker has not been identified and his condition has not been revealed. The crane was located at the construction site for an
Tampa Mayor Bob Buckhorn was at the scene during the rescue.
"When you think about what the men and women of Tampa Fire Rescue do every day...it just really is a testimony to the skill set and the courage of those men and women who serve us and put that uniform on every day," he said.
The mayor said the man appeared to be conscious, coherent, and calm before he was loaded into the ambulance.