Correction: Travel Ban-Refugees story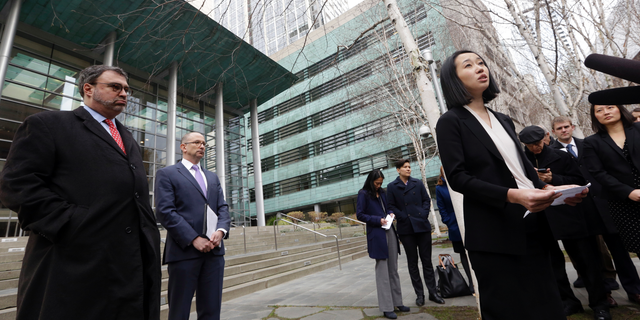 SEATTLE – In a story Dec. 21 about a federal lawsuit challenging a Trump administration ban on certain refugees, The Associated Press reported erroneously the name of the lawyer who provided information about the difficulty a refugee family would face getting new medical clearances. It was Tana Lin, not Mariko Hirose.
A corrected version of the story is below:
Judge considers lifting ban on entry of refugees, families
A federal judge said he would decide before Christmas whether to stop a Trump administration ban on certain refugees after hearing arguments that the ban is separating families and putting some refugees in danger
By MARTHA BELLISLE
Associated Press
SEATTLE (AP) — A federal judge said he would decide before Christmas whether to stop a Trump administration ban on certain refugees after hearing arguments Thursday that the ban is separating families and putting some refugees in danger.
Lawyers from the ACLU and Jewish Family Service asked U.S. District Judge James Robart for an injunction on a ban the administration has placed on refugees from some mostly Muslim countries.
The ban went into effect in October after President Donald Trump issued an executive order resuming the refugee program "with enhanced vetting capabilities."
The day before that order, Secretary of State Rex Tillerson, Acting Homeland Security Secretary Elaine Duke and Director of National Intelligence Daniel Coats sent a memo to Trump saying certain refugees must be banned unless additional security measures are implemented.
The banned refugees include the spouses and minor children of refugees who have already settled in the U.S. The action also suspended the refugee program for people coming from 11 countries, nine of which are mostly Muslim.
The ACLU argued the memo provided no evidence for why additional security was needed and didn't specify a timeframe for implementing the changes.
"Refugee resettlement is one of our proudest humanitarian achievements," Mariko Hirose, a lawyer with the Jewish Family Service case, said after the hearing. "We as Americans cannot let this administration destroy our refugee program and repeat the worst of this country's history by letting bigotry turn away those who need our help the most."
August Flentje, with the Department of Justice, told Robart that the ban is temporary and "is a reasonable and appropriate way for agency heads to tackle gaps" in the screening process.
But Robart questioned whether Trump administration policies were trampling the Administrative Procedures Act, which says a process must be followed before shutting down a program.
The judge also questioned whether the Department of Homeland Security has the authority to stop the refugee program, when the Immigration and Nationality Act, passed by Congress, mandates the reunification of the families of refugees settled in this country.
After peppering the lawyers with questions, Robart said he is taking the motion for a preliminary injunction under advisement and would issue a ruling by Christmas, which is only one business day away.
The ACLU and Jewish Family Service lawsuits were consolidated and represent refugees who have been blocked from entering the country. Their lawyers say the ban on entry is causing irreparable harm and is putting some lives at risk.
The ACLU represents a Somali man living in Washington state who is trying to bring his family to the U.S. They've gone through extensive vetting, have passed security and medical clearances, and just need travel papers, but those were denied after the ban.
The delay creates major problems because the medical clearances are only valid for a certain period of time, and the family will have to travel 500 miles over difficult terrain to get new medical certifications if the ban is not lifted soon, said Tana Lin, an ACLU - Washington cooperating attorney at Keller Rohrback.
The man "unquestionably has a statutory entitlement under the INA to be reunited with his family," but the administration has denied him of that right, the ACLU said.
Two other refugees included in the Jewish Family Service lawsuit are former Iraqi interpreters for the U.S. Army whose lives were put at risk for their service.
Another is a transgender woman in Egypt "living in such extremely dangerous circumstances that the U.S. government itself had expedited her case until the ban came down," Hirose said.
Jane Doe 5 is a single woman in Iraq, Hirose said. Her husband divorced her after she was kidnapped and raped by militants because she worked with an American company. Her family is in the U.S. but she's stranded by the ban, Hirose said.
Rabbi Will Berkovitz said after the hearing that Trump's order directly harms the people Jewish Family Service tries to help.
"We know exactly how perilous it is when this great country of ours shuts its doors to the most vulnerable based on their religion," he said. "The executive order and the actions of this administration are at odds with both our core Jewish values and American values."
___
Follow Martha Bellisle at https://twitter.com/marthabellisle
___
This version corrects that the group is named Jewish Family Service, not Jewish Family Services and that Hirose is a lawyer for Jewish Family Service, not the ACLU.