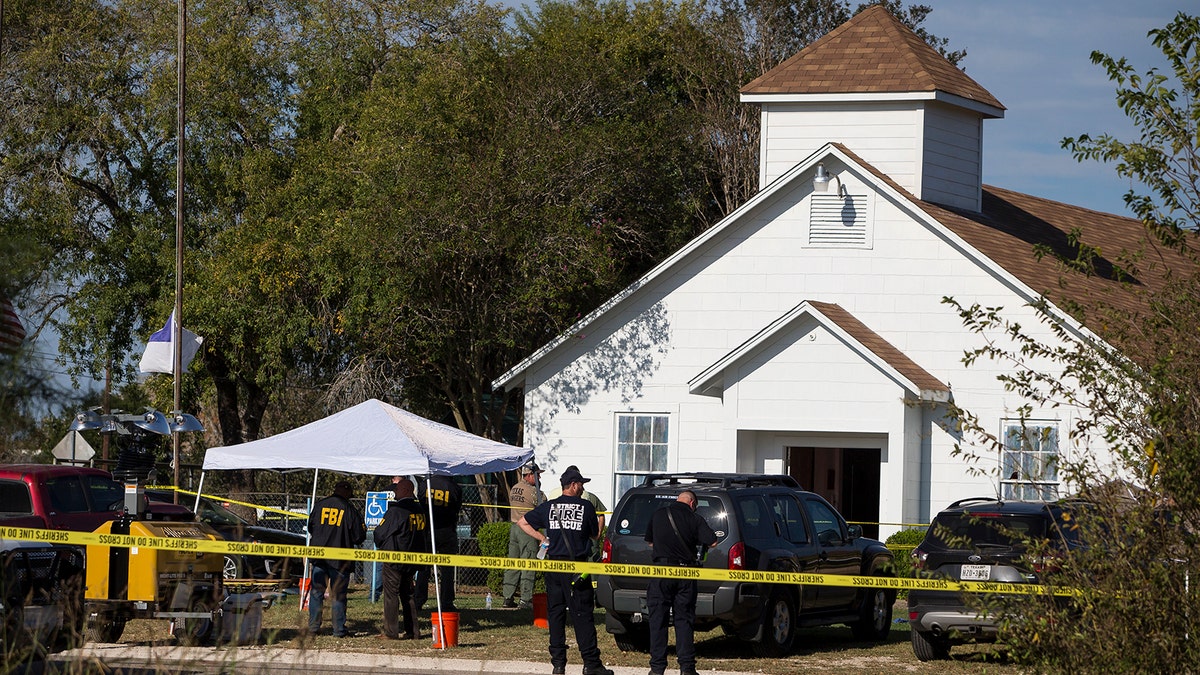 SUTHERLAND SPRINGS, Texas – In a story Nov. 6 about the church that was the site of a mass shooting in Texas, The Associated Press, relying on a family member, reported erroneously that victim Crystal Holcombe was eight months pregnant. Relatives now say she was due in April.
A corrected version of the story is below:
Texas town revolves around church where shooting occurred
Videos of past sermons posted online from a church where a gunman opened fire Sunday showed the white wood-frame house of worship was at the center of life in Sutherland Springs, Texas.
By JIM VERTUNO, NOMAAN MERCHANT, and DIANA HEIDGERD
Associated Press
SUTHERLAND SPRINGS, Texas (AP) — The most recent sermon posted on YouTube by the pastor of the First Baptist Church of Sutherland Springs, Texas, shows him explaining why he had parked a motorcycle in front of his lectern.
As he walked side to side on stage, Frank Pomeroy explained in the video posted Oct. 29 that he wanted to discuss having faith in forces that can't be seen, be they gravity during a sharp turn or God.
"Just as leaning into a turn may not make sense, leaning into God is the way we should go, because God's got it figured out, whether we do or not," Pomeroy said.
The white wood-frame church where a gunman opened fire Sunday was at the center of life in Sutherland Springs, one of the hundreds of tiny towns that dot rural Texas. A week after the video was posted, one of those killed was Pomeroy's 14-year-old daughter, Annabelle.
Local and federal law enforcement swarmed the community and blocked off access to the church hours after residents reported hearing gunfire. Regina Rodriguez walked up to the police barricade a few hours after the shooting and hugged a person she was with.
Her father, 51-year-old Richard Rodriguez, attends the church "every Sunday." She had not yet been able to reach him.
She said she feared the worst: "I just lost my father."
Nick Uhlig, 34, is a church member who did not go to a service Sunday morning. He said his cousin Crystal Holcombe, who was pregnant, and her in-laws Karla and Bryan Holcombe were among those killed.
"Somebody went in and started shooting," he said, shaking his head and taking a long drag on a cigarette.
U.S. Rep. Henry Cuellar, a Democrat who represents part of the area, said in a statement that he could recall holding fundraisers at the local volunteer fire department "where basically everyone in the entire area would come out to support those volunteers.
"The people of Sutherland Springs are as fine an example of Texans and Americans as you will find anywhere in the country," Cuellar said.
Frank Pomeroy's wife, Sherri Pomeroy, said in a text message to The Associated Press that her daughter was among the "many friends" they lost Sunday. Both she and the pastor were out of town Sunday.
According to a 2015 listing in the national directory of the Southern Baptist Convention, the Sutherland Springs church was formed in 1926 and has nearly 270 members. Services are offered in English and Spanish and draw an average of about 180 people on Sundays.
First Baptist Church has a fellowship breakfast on Sunday mornings, followed by Sunday School, according to its website. A morning worship service is at 11 a.m., with a Sunday evening service at 6 p.m. A ladies Bible study is scheduled Tuesday morning, while a men's prayer group meets at 6:30 a.m. on Wednesdays.
Thursdays include an evening fellowship dinner, followed by religious activities and prayers for children and a food distribution for anyone who needs "God's Blessings." The church's Facebook page has photos on Halloween of children and their parents in costumes outside the church, with lights strung up on poles and various games separated by hay bales.
The church regularly posts videos of its Sunday services on a YouTube channel, raising the possibility that the shooting was captured on video. No video appears on the channel from Sunday, and authorities have not yet said whether they obtained video footage from Sunday's service.
In the sermon video posted Oct. 29, Pomeroy began by speaking in front of a stage with two guitarists and a singer. Most people, including Pomeroy, appear to be in jeans. A few children can be seen walking around and climbing around on the pews.
Pomeroy mentioned Annabelle in his sermon, saying that the two of them rode on the bike that morning. With a smile, he mentioned that while both of them could watch the sun rise and the nature around them, the temperature that morning had fallen nearly to 30 degrees Fahrenheit (-1 degree Celsius).
"She was back there cuddled behind me, and when I pointed at the temperature gauge, I felt her snuggle in even tighter," he said.
___
Merchant reported from Houston, and Heidgerd reported from Dallas.