Cops say Facebook photos led to couple's arrest in Ohio bank robbery
NEWYou can now listen to Fox News articles!
A parolee and his girlfriend accused last week of robbing an Ohio bank apparently never thought that posting photos on Facebook of themselves with wads of cash in the days after the crime was the way to keep out of sight until the coast was clear.
Cops say the photos helped them track down John Mogan, 28, and Ashely Duboe, 24, and charge them with robbing the Savings Bank in Ashville, just outside of Columbus, on Aug. 24.
Investigators say Mogan made off with an undetermined amount of cash after he entered the bank wearing a black hoodie and handed the teller a note demanding cash.
Investigators say that four days after the bank robbery, Mogan posted a photo on his Facebook page that shows him with fans of cash in each hand as he embraces Duboe, The Smoking Gun reported.
Another photo posted Aug. 31 shows Mogan with a wad of bills in his mouth, the website said.
"That's called a McStack," he allegedly wrote. "I'm doing rrree=aaaaalll) good."
The Smoking Gun said other photos posted to the Facebook page show Mogan pretending that the brick of cash is a phone as well as his lunch.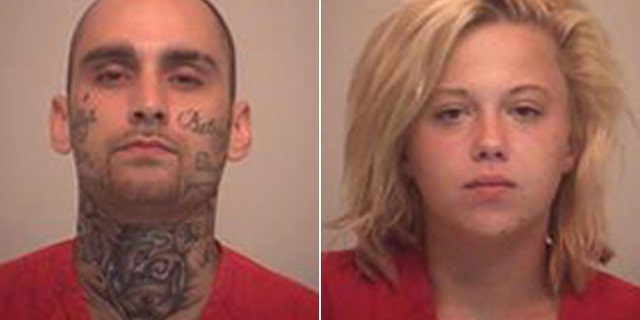 Pickaway County Sheriff Robert Radcliff said a Crime Stoppers tip led investigators to Mogan.
He told the Circleville Herald the pieces started to come together when they looked at Mogan's rap sheet, found out his parents lived in the Ashville area and saw the photos of Mogan with large amounts of money that were posted on his Facebook page.
Mogan had just been paroled in July after serving a prison stretch for a 2010 bank robbery that took place in a town near Ashville, The Smoking Gun reported.
Investigators say Duboe drove Mogan to the Ashville bank and applied makeup to hide tattoos that cover his face.
Mogan and Duboe face felony robbery and theft charges. They are each being held on $250,000 bond at the Pickaway County jail.