Cop killer sues New York City after being jumped in prison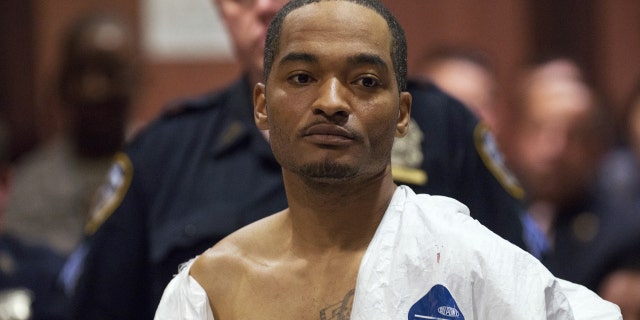 He killed a cop — and now he wants a payday from the city.
Convicted Queens murderer Demetrius Blackwell — who is serving life in prison without parole for fatally shooting NYPD Officer Brian Moore in May 2015 — whines in court papers he was attacked by two inmates while behind bars.
Blackwell claims he was jumped in April 2017 by two other cons at the Brooklyn Detention Center — thanks to the "carelessness, recklessness and gross negligence" of prison staff.
The 37-year-old killer suffered a "deep," almost 5-inch slice to his face, according to court papers.
Blackwell — whom a judge described as "a cold, calculating killer'' at his sentencing — insists that he was an innocent victim in the brawl.
The cop-killer says he was attacked "without provocation and justification," according to the suit.
The melee was caught on surveillance footage, which shows a correction officer using pepper spray to break up the fight.
Blackwell's two alleged attackers were identified as convicted robbers Kai Watkins, 39, and Layquan Johnson, 34.
Blackwell got the book thrown at him when sentenced by Queens Judge Gregory Lasak in December for shooting Moore, a five-year department veteran, in the face while he was on patrol.
Read more from the New York Post.