Convicted bank robber covered in tattoos found after escape from custody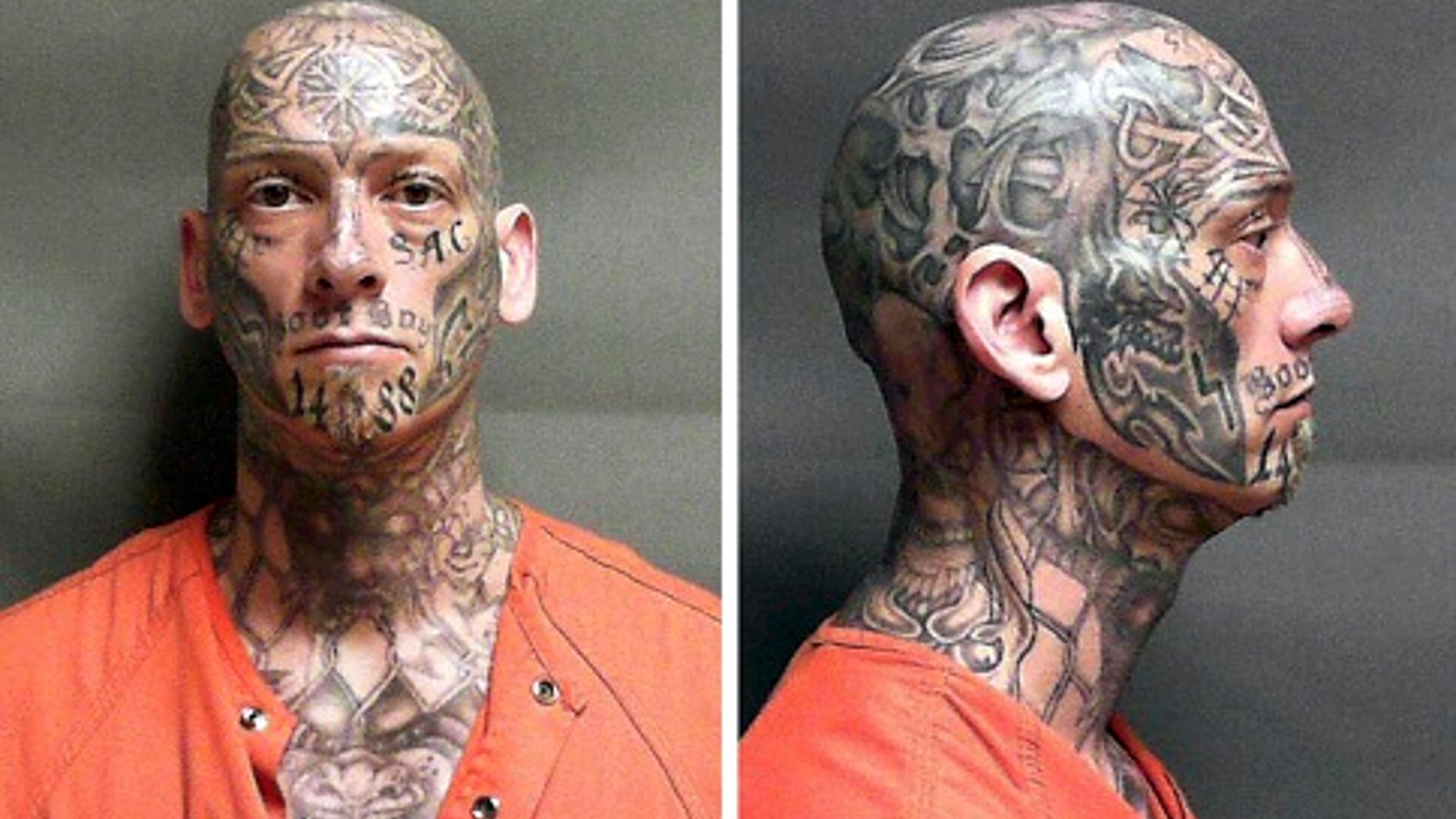 A tattoo-covered man, doing time for a bank robbery and an assault in prison, was captured Thursday night in Pennsylvania after he escaped from a New Hampshire halfway house Monday.
Eric Judkins, 42, fled the house in Manchester, N.H., prompting a manhunt, according to the Boston Globe. The U.S. Marshals released a mugshot of Judkins, reasoning the public could easily spot the uniquely tattooed man. The felon's face, arms, head and neck are coated in black ink tattoos.
AUTHORITIES SEARCHING FOR HEAVILY TATTOOED ESCAPED INMATE
"Mr. Judkins was an inmate at the Hampshire House Half-Way House in Manchester, N.H., and failed to return to the facility," a statement from the U.S. Marshals said. "Judkins was serving part of a 27-month sentence for a serious assault that occurred while he was in a federal prison. This assault on an inmate occurred while Judkins was serving a 210-month sentence for a 1999 New Hampshire Bank Robbery."
Judkins was discovered and arrested at a residence in Howard, Pa., WBZ reported. The U.S. Marshal Service said they received a number of tips leading to his arrest.
"Judkins was located in the company of another fugitive, Quintin Titus, 22, who was arrested on a probation violation, stemming from an original conviction for theft," the U.S. Marshals Service told WBZ.
"This dangerous fugitive was quickly arrested due in part to the large number of tips that came into our office, combined with the tireless work of the investigators in both New Hampshire and Pennsylvania," U.S. Marshal David Cargill, Jr. told WBZ.
PENNSYLVANIA PARENTS WAIVE HEARING ON CRIB SUFFOCATION DEATH
Judkins and Titus were both in custody at the Lycoming County Prison in Williamsport, Pa., WBZ reported.
Judkins was scheduled to appear in court in Williamsport, Pennsylvania, on Friday. It wasn't immediately known if he had a lawyer.
The Associated Press contributed to this report.