Convict named suspect in 1996 cold case disappearance of 14-year-old girl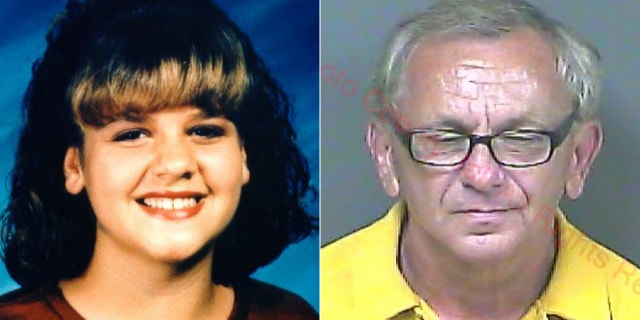 A convict who a 14-year-old Tennessee girl reportedly called "Uncle Pete" was named a suspect in the teenager's 1996 disappearance.
Finis Ewin Hill, 66, was named a suspect in the disappearance of Cayce McDaniel, who was last seen leaving a back-to-school party at her church almost two decades ago.
"From day one, he was a suspect," Milan Police Chief Bobby Sellers told WREG. "His name had come up about being in certain places where Cayce was and her family, so he's kind of been on the radar of law enforcement for a long time."
Hill, also known as "Pete," was indicted last week on child exploitation charges after he was allegedly caught traveling from Tennessee to Mississippi to have sex with an underage girl, the U.S. Attorney's Office in Tennessee said in a statement.
INDIANA MAN ARRESTED IN 1988 RAPE, MURDER OF 8-YEAR-OLD GIRL AFTER DNA MATCH FOUND ON USED CONDOMS, COPS SAY
The 66-year-old had fallen into a trap set up by police, who created a fake social media account to lure Hill to a Mississippi hotel room, authorities said.
"He was communicating with what he thought was a young, single mother coming out of an abusive relationship, but he was actually communicating with one of our police officers," Sellers told WREG.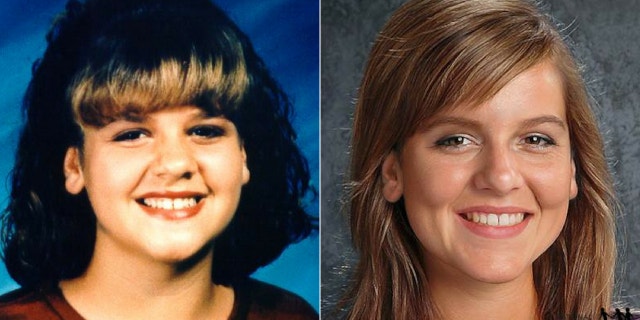 Hill sent disturbing messages that included admitting to have sex with a 14-year-old girl and raping, chasing and beating women, police said.
But all along, investigators had been trying to solve the two decades old case, authorities said. An officer began looking into McDaniel's disappearance and narrowed it down to Hill as a possible suspect after reviewing witness accounts and testimony from different people.
McDaniel went missing after she left a party and was dropped off at her home in Milan just after midnight on Aug. 16, 1996. She was never found.
At the time, McDaniel's mother told police she noticed her daughter was missing when she and her boyfriend came home around 2 a.m. and the back door was open, Jackson Sun reported.
There have been different accounts and rumors about what happened the night McDaniel's disappeared. Brandon Barnett, who investigated the cold case in his "Searching for Ghosts" podcast, told WREG some accounts said McDaniel was at a different party with her mother and boyfriend that night.
"It had too many varying stories about who was there and when they were there, and I knew I was being lied to," Barnett said.
COLD CASE KILLING OF WISCONSIN COUPLE PROMPTS NEW SUSPECT SKETCHES FROM DNA ON CLOTHING
Sellers also said witness accounts police received indicated McDaniel was at the same party as her mother, but authorities said no one at that party has come forward with information.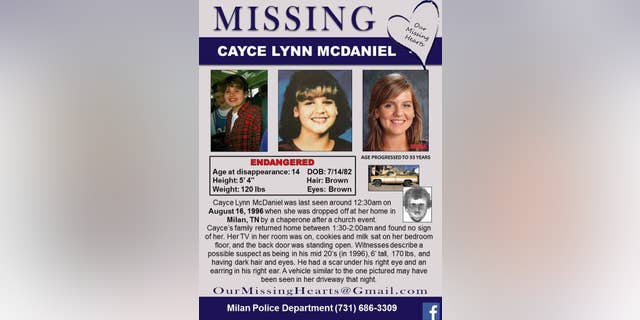 The party is a key event because, according to Barnett, Hill may have attended that party. It's unclear what kind of relationship the McDaniel family had with Hill but he was reportedly known to them.
"Cayce had called him Uncle Pete, so he was kind of around," Barnett said.
Barnett added that McDaniel's mother also called him while he was putting his podcast series together seemingly admitting Hill was responsible for McDaniel's disappearance.
Hill pleaded guilty to charges of attempted aggravated kidnapping, aggravated assault and being a felon in possession of a firearm after he tried to abduct a woman in 2003, court documents showed. He was sentenced in 2005 to 15 years in prison and three years of supervised release.
Hill was released from prison earlier this year.
Despite Hill's arrest last week, authorities are still looking for more information that will lead them to McDaniel's body.
"We'd love it if one day she were to walk back into Milan, but the odds of that happening at this point are very slim, just based on evidence and how much time has passed. So, the family just wants to put her to rest," Sellers said. "If in the process we find out who was responsible for that, that's great, too."