Controversial 'stolen valor' column sparks outrage in small Pennsylvania town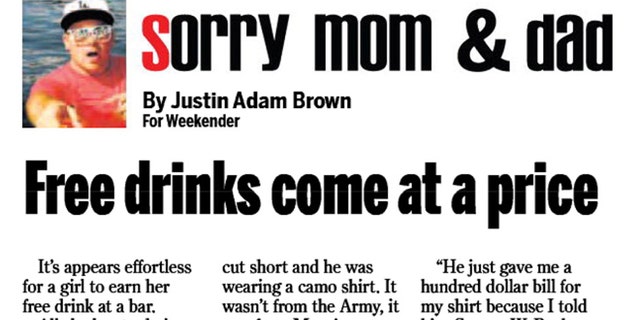 Outrage is growing in a small northeastern Pennsylvania town after a local columnist lied about being a veteran to score free drinks at a bar -- forcing the newspaper's publisher to apologize Tuesday.
A Dec. 23 column in The Weekender -- published by The Times Leader Media Group and owned by parent company Civitas Media -- began in part as follows:
"I discovered the secret to getting a few drinks without having a vagina: just say you're a veteran. Everyone wants to buy a vet a free drink."
The column, titled, "free drinks come at a price," was written by Justin Adam Brown, who went on to brag about tricking a Vietnam veteran into believing he had served in Iraq so he could receive free drinks.
Brown wrote that he accepted drinks from the unnamed veteran after telling him, "I fought in Iraq." He joked about how his friend also sold a camouflage shirt to the veteran for $100, falsely claiming he got the shirt from President George W. Bush. The shirt was purchased at Macy's, according to Brown.
The column -- which serves residents of Wilkes Barre and Scranton, Pa. -- immediately sparked outrage among members of the community, including veterans who accused the writer of "stolen valor," acccording to the Times-Tribune newspaper.
The column was eventually pulled from the newspaper's website after John Dawe, president of Dawe Consulting and a local activist, filed a Change.org petition, demanding an apology from the writer, editor and publisher.
"The content of the article is offensive on so many levels," Dawe told FoxNews.com Tuesday.
On Dec. 27, Brown and his editor, Sarah Haase, issued separate apologies on The Weekender's website.
"Last week, I wrote a column about a situation my friends and I experienced at a bar," Brown wrote. "My recounting of that situation had the unintended consequence of hurting veterans."
"We never intended for anyone to believe we were veterans," he said. "An intoxicated patron at the bar solicited us, and even though we told him we weren't veterans, we ultimately played along after being harassed and feeling uncomfortable."
Haase took responsibilty for allowing the column to go to print, writing on the site, "I'd like to apologize to all those who were hurt and offended by a recent Sorry Mom and Dad column that appeared in Weekender after receiving the green light for publication by me."
"The piece, which former columnist Justin Adam Brown wrote, does not reflect my personal values or morals. I do not condone Justin's behavior, however, I was the editor who made the difficult decision to print his column under the belief that Justin had a right to say the things he said," Haase wrote.
After receiving an apology, Dawe said the Change.org petition is calling for leadership at The Times Leader Media Group to pledge to follow ethical practices.
"We're calling for them to do a renewed commitment to ethical journalism," Dawe said.
Local businesses, meanwhile, condemned the column and vowed not to advertise in it.
"R bar and grill Nanticoke will NEVER advertise or distribute this paper again. It's a disgrace to all of NEPA. pathetic!," Lauren Temarantz Maga, owner of R Bar and Grill, wrote on her Facebook page, the Times-Tribune reported.
In an interview Tuesday, Doug Olsson, the Times Leader Media Group's publisher, told FoxNews.com that, "the apology is not enough."
"We recognize that we made some errors in judgment here and there's a couple things we're doing internally to make sure this doesn't happen in the future," Olsson told FoxNews.com.
He said in the future the paper will require two editors -- not one -- to read and approve all columns in The Weekender before publication.
"Our thought process is two judgments are better than one," he said. "We're also investigating some training for our newsroom staff in terms of sensitivity to the community and various groups."
Olsson went on to apologize to any veterans the column may have offended, saying, "We're going to work to try and win that trust of the community back."
Neither Brown nor Haase were immediately available for comment when contacted Tuesday. According to the Times Tribune, Brown was laid off in November as a full-time staffer but continued to write his weekly "Sorry mom and dad" column.