Containment increases on fire near Yosemite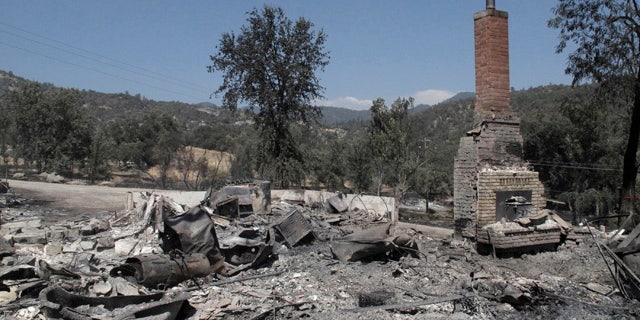 OAKHURST, Calif. – A wildfire that surged early and led to mass evacuations around a community near Yosemite National Park was tamed by firefighters, and the remaining evacuees were expected to return to their homes on Wednesday.
"We're at the point where we're turning the corner with the progress we had last night and yesterday," state fire spokesman Chris Christopherson said Wednesday.
The flames drove about 1,000 people from their homes around Oakhurst, a community of several thousand in Madera County about 16 miles from a Yosemite entrance. Some of the evacuees were allowed to return on Tuesday, and Christopherson said the remaining residents would more than likely be given the green light to go home on Wednesday. He did not know how many people were still evacuated.
The fire has burned about 1 square mile and was 40 percent contained. It started on Monday and quickly took off because of strong winds and tinder-dry conditions.
Eight structures, including two commercial buildings, were destroyed, and two firefighters suffered minor injuries. The cause of the blaze was under investigation.
A road leading visitors to the park reopened Tuesday, and the park itself remained unaffected by the blaze.
Evacuated residents in Oakhurst said they had braced for the worst.
"There is nothing you can do when a fire is raging," said Clement Williams, 67. "You just have to flee. It's a real sinking feeling."
Williams and his wife, Gretchen Williams, 63, were trying to get information about the fire and their home from officials. They spent the night at a nearby hotel.
The fire comes amid California's third straight year of drought, creating tinder-dry conditions that have significantly increased the fire danger around the state and sent firefighters scrambling seemingly nonstop from blaze to blaze.
Firefighters on Tuesday stopped the growth of a blaze some 50 miles northeast of Bakersfield.
The wildfire burning near Lake Isabella in Kern County grew exponentially Monday, but was 5 percent contained Tuesday after scorching some 5 square miles, or 3,367 acres.
Some structures burned, but it wasn't immediately clear how many or if any were homes.