Confederate statue painted pink in Nashville, but owner will leave vandals' handiwork intact
A pink Confederate statue?
That's what drivers on Interstate 65 in Nashville see after vandals splashed paint earlier this week on a privately owned statue of Confederate Gen. Nathan Bedford Forrest.
The owner of the property and the statue of the KKK leader told the Tennessean newspaper that he's fine with the new hue and plans to keep it.
"They've been trying to figure out how to cover it up," said Bill Dorris, who owns the sculpture and the property on which it stands. "I do think they chose a good color."
Dorris said that the bright pink would "show up real good," and that he had no plans to remove the paint.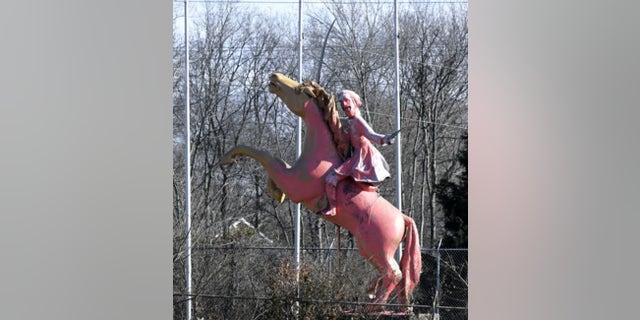 The statue was erected in 1998 and depicts a horse on its hind legs carrying the Confederate leader on its back as he wields a pistol.
WHICH CONFEDERATE STATUES WERE REMOVED? A RUNNING LIST
Across the country, communities are grappling with whether to remove various monuments to the Confederacy. More than 25 cities have already relocated or removed Confederate statues.
The statue in Nashville has been vandalized before. Last fall, for instance, someone placed a sign that read, "Trump 2016, Make Amerikkka Great Again" on a nearby fence, but officials removed it.
Dorris said that images of the vandals may have been caught on one of the dozens of cameras on his property, and that he was waiting for assistance to review the footage.
"Well, enjoy the new paint scheme is the only thing I can tell them," he said.
Last week, Memphis removed two statues from public parks, including one of Forrest erected in 1904.