Confederate flag posters plastered with cotton found on American University campus
Ten Confederate flag posters with cotton attached to them were found on bulletin boards at American University's Washington, D.C. campus Tuesday evening.
The posters, which bore messages like "Huzzah for Dixie" and "I wish I was in the land of cotton"— a quote from a song that was the unofficial anthem of the Confederacy—were discovered at four locations on the same evening that the college introduced its new Antiracist Research & Policy Center.
According to a crime bulletin released by the school, the culprit, who was captured on multiple videos, is a white male who is about 40 years old and about 5-foot-10. The videos show him wearing gloves, a construction worker's hat and vest, and carrying what appears to be a toolbox.
The posters drew anger on campus. Students, faculty and administrators met Wednesday afternoon to address the issue.
"I cannot stand here in this room and be honest with you and say that this will never happen again," Fanta Aw, the university's vice president of campus life, told students during the meeting. "Unfortunately, we're living in a world and in this time where these actions are happening."
CITY LEADERS WANT JUDGE'S OK TO REMOVE PORTSMOUTH CONFEDERATE MONUMENT
Officials proposed stepping up police presence on campus and adding more cameras. But some were skeptical about beefing up security.
"At what cost is that more intense police presence? As someone who has been harassed and profiled, I don't see that as making a safe space," said Ibram Kendi, a historian and director of the university's Antiracist Center, which is the first of its kind at a U.S. college. "How do we create a mechanism in which we feel more safe without creating more surveillance and having more police?"
This is the second known incident of racist symbols being found on campus. In May, bananas were found hanging from nooses on the same day that a student, Taylor Dumpson, became the first black woman elected student body president.
"Over the summer we pushed for having a space for students of color specifically. The space actually exists. I want you to know that," said Dumpson, noting that the renovated space within the existing Mary Graydon Center would be open soon.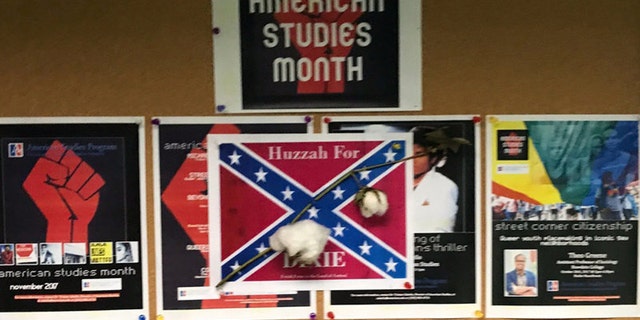 TEXAS HOUSE SPEAKER CALLS FOR REMOVAL OF 'INACURATE' CONFEDERATE PLAQUE
Another student recounted complaints she's heard about a professor who apparently justifies slavery in his classes and wondered why the university was offering "counseling" to this person instead of simply firing them.
"I want to challenge the AU community as a whole to be better and do better. What we need to do as a community is show that these actions and these ways of thinking do not belong here," said the student. "These things keep happening because we as a community are telling these people that it's OK. It's not just the black students' responsibility, it's all of our responsibility. We all invest our time and resources in this place."