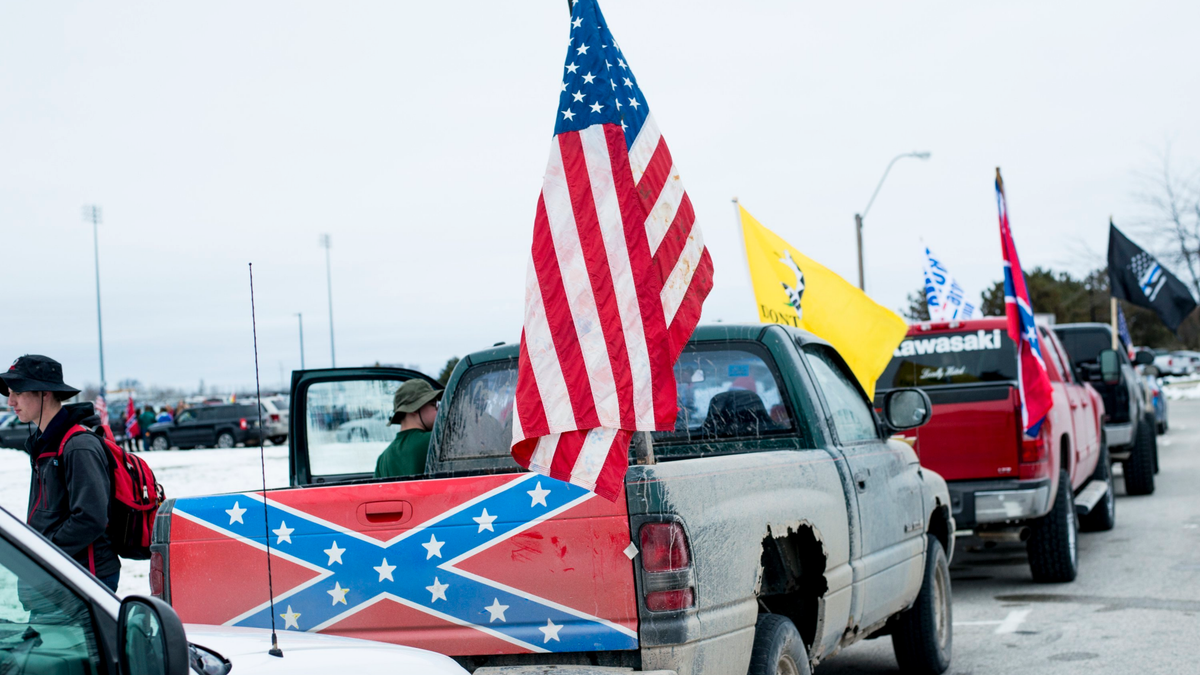 AUBURN, Mich. – Students and others with Confederate flags flying from or painted on their pickup trucks parked for a second day outside of a central Michigan high school, prompting other students to hold a counter-demonstration against racism and bigotry.
Six trucks bearing the Confederate battle flag parked outside of Bay City Western High School on Tuesday and were joined by others on Wednesday, when they were met by students waving rainbow flags and placards with messages including "Black Lives Matter" and "Hate Not Heritage," The Bay City Times reported .
Cameron Myers, a student who was waving a Confederate flag, said a flag was torn from his vehicle on school property last week. He denied that his faction was trying to intimidate anyone by waving the flag.
"It's not about racism; it's a country boy thing," Myers said.
"If we were going over there and saying racist slurs and cussing them out, that would be another thing," he told The Bay City Times.
But some students saw it otherwise.
"We have such a small minority population of students and we're in a conservative area," said Kendrix Szilagyi, who organized the counter-protest and called the Confederate flag display "racism."
"We're a white-majority school," Szilagyi said. "It's making some of the students and people feel uncomfortable and unwelcome."
Only some of the Confederate flag faction are students at the school in Auburn, about 100 miles (160 kilometers) northwest of Detroit.
"The majority of the people who were out there weren't actually students of ours,'" superintendent Stephen Bigelow told The Associated Press on Wednesday, referring to the owners of the vehicles. "For the most part, the majority of our students were inside doing the right thing."
Bay County Sheriff Troy R. Cunningham said deputies were monitoring the situation.
Administrators are trying to determine if the school, where more than 94 percent of the students are white, has race problems and whether some students could be disciplined for harassment or intimidation.
Bigelow said there may be little the district can do since the vehicles were not on school property, but there are "more issues than just the flags."
"My number one priority is to make sure our students are safe at school and feel safe at school," he said. "Quite often, that flag can bring some racial undertones that are not healthy at school."
Bigelow said he's not sure if the vehicles bearing the flags will be outside the school on Thursday.
Auburn's mayor, Lee Kilbourn, said the flag display is not illegal.
"I'm not saying I'm supporting it ... or against it, but people in this country have to start realizing we have to tolerate all peoples' views," Kilbourn told The Bay City Times.
"If the motive was to intimidate, that was wrong," he said. "Trying to intimidate by race, color, creed, political belief, or religious belief is wrong. We have to respond to that in the right way so that the right message gets out."
Efforts to remove Confederate flags from public places as symbols of national division and black oppression accelerated after violence during a white supremacist rally last year in Charlottesville, Virginia.