Company faces fine after bourbon warehouse collapse poisons creek, killing hundreds of fish
A company that owns a distillery in Kentucky is facing fines from the state after a warehouse collapse caused hundreds of fish to die, officials said.
The explosion caused bourbon to leak into public waterways. Sazerac, the parent company of Barton 1792, is facing fines from the state of Kentucky of up to $25,000 a day after it failed to notify officials about the spill, which killed over one thousand fish, according to WDRB.
Over the weekend, dead fish could be seen floating on Withrow Creek and Beech Fork in Bardstown.
"Alcohol is toxic to fish, so any fish ingesting alcohol in the water, it will kill them," John A. Mura, director of communications for the Kentucky Energy and Environment Cabinet, told WDRB. "Secondarily, bacteria in the water actually consume the alcohol and in so doing deplete the oxygen level in the water, and that also kills the fish because they can't breathe."
The collapse happened Friday, when 9,000 barrels came crashing down at Barton 1792 warehouse #30 in Bardstown, located about 40 miles south of Louisville.
BOURBON STORAGE FACILITY COLLAPSES IN KENTUCKY, SENDING BARRELS CRASHING TO GROUND
"I thought it was an earthquake," Valerie Nevitt told WDRB. "It made a loud boom, like a thunder bolt sound, and it shook the ground a little bit."
The cause of the collapse has not been identified, but the warehouse was built in the 1940s, which predates Nelson County's code enforcement and planning and zoning departments.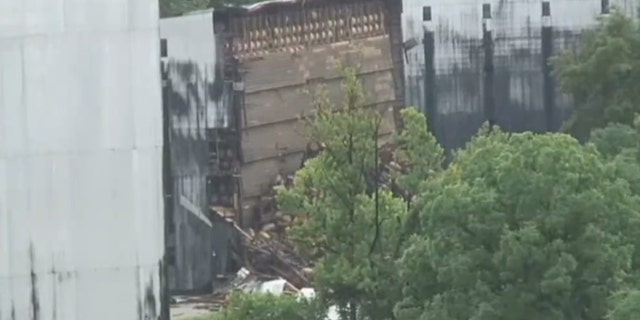 "This building was built long before any building codes were in effect," Nelson County building inspector Logan Spaulding told WDRB. "That's up to the individual owner, it's their property. They have the responsibility to make sure the building is built properly."
The collapse on Friday is likely to have caused thousands, if not millions of dollars in damage. Barton 1792 is expected to do its own safety inspection and report of the site, according to the television station.