Commute resumes in Chicago after train crash that injured dozens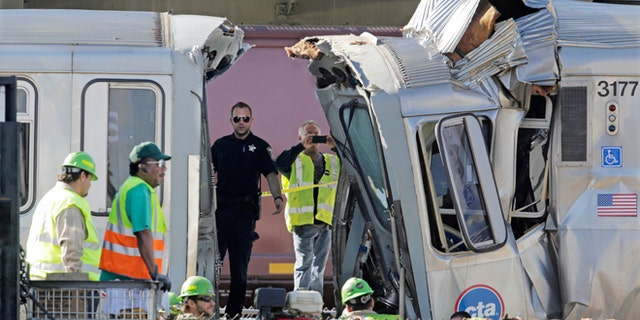 NEWYou can now listen to Fox News articles!
FOREST PARK, Ill. – The morning commute is mainly running smoothly a day after an empty, unmanned commuter train slammed into another at a suburban Chicago station, injuring dozens of passengers.
Chicago Transit Authority spokeswoman Catherine Hosinski says the Blue Line train connecting Chicago's western suburbs with downtown and O'Hare International Airport is operating on a single-track near the Harlem stop Tuesday. Hosinski says the resulting "ripple effect" is causing 10 to 15-minute delays on that line.
Video footage shows that no one was driving the four-car train Monday when it rumbled the wrong way and crashed into a parked train about 10 miles west of Chicago. The trains are driven by conductors.
Some four dozen people on the parked train were treated for minor injuries.