Columbus Day nixed for 'Indigenous Peoples' Day' by more universities nationwide
Harvard University is the latest of a growing number of colleges to add "Indigenous Peoples' Day" to its calendar, an effort, proponents say, to reject colonialism represented by Columbus Day.
Indigenous Peoples' Day was first adopted in Berkeley, Calif. in 1992, but it's recently become more popular on campuses nationwide.
Instead of celebrating explorer Christopher Columbus, students demonstrate against colonialism through events such as planting trees, hosting open mics to condemn so-called exploitation of weaker countries and providing guest lectures on Native American grievances.
Harvard's decision comes a year after the Cambridge City Council unanimously decided to rename Columbus Day, The Harvard Crimson reported.
Nadeem Mazen, the Cambridge city councilor who proposed the renaming, said the move was intended to reclaim the day for Native Americans killed after Columbus landed.
"At a basic level, we're saying 'no' to a day named after someone who was a tyrant, and was a torturer, and was a destroyer of Indigenous people, to turn this around and to honor those people without saying anything bad about other people," he said.
Native Americans at Harvard College echoed Mazen, and plan to celebrate indigenous culture and demonstrate against the person represented by Columbus Day.
"It's a celebration of our survival in that we're still here, thriving, even though it's not really known," said Ashley Hamilton, a member of the Winnebago Tribe of Nebraska and vice president of Native Americans at Harvard College.
According to a Harvard spokesperson, the Faculty of Arts and Sciences updated the wording on the calendar to include both Columbus Day and Indigenous Peoples' Day in accordance with federal and Cambridge parameters.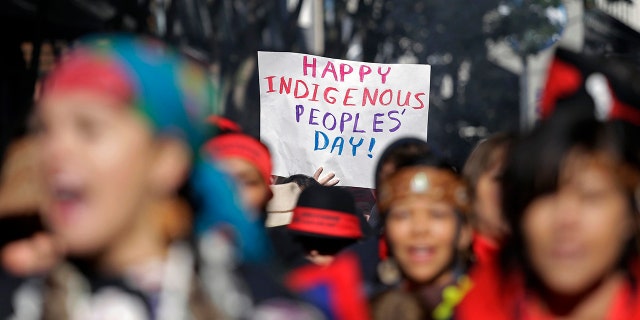 Other universities marking "indigenous peoples" over Christopher Columbus for the first time this year include Fredonia College, the University of Texas El Paso, and the University of Alaska Fairbanks, according to the College Fix.
Fredonia College, in explaining its decision, stated the "suggestion that the U.S. celebrate Indigenous Peoples' Day rather than Columbus Day emerged in 1977 at a United Nations-sponsored conference where the issue of discrimination against indigenous populations in the U.S. was confronted."
Fredonia noted they were joining cities such as Los Angeles, Berkeley, Denver, Minneapolis and Seattle, as well as states such as South Dakota, Hawaii and Alaska.
Columbia University's Native American Council plans a daylong observance for its "Indigenous Peoples' Day: 500 Years of Resistance" – including an open mic that in past years had people perform "spoken work poetry, sing, dance, talk about their indigeneity, or share a piece of writing."
Vanderbilt University is hosting guest speaker Albert Bender, who is described as "attorney of Indian Law, political activist, and journalist who spent several months participating in the Standing Rock protests." Bender has been trying to get Nashville to rename the holiday for years.
Brandeis College is hosting their second annual Indigenous Peoples' Day Teach-In that's set to include lectures and documentaries on oppression of Native American people, as well as a presentation from the Brandeis Climate Justice group.
Dennis Zack, coordinator of American Indian Student Services at the University of Wisconsin Oshkosh, said the campus will host an Indigenous Peoples' Day to challenge preconceived ideas about Columbus Day, according to the Advance-Titan.
"In reality, the arrival of Christopher Columbus in 1492 created colonialism, enslavement and the forced removals of the tribes that followed the 'discovery of America,'" Zack said.