Colorado theater gunman says he wishes psychiatrist had locked him up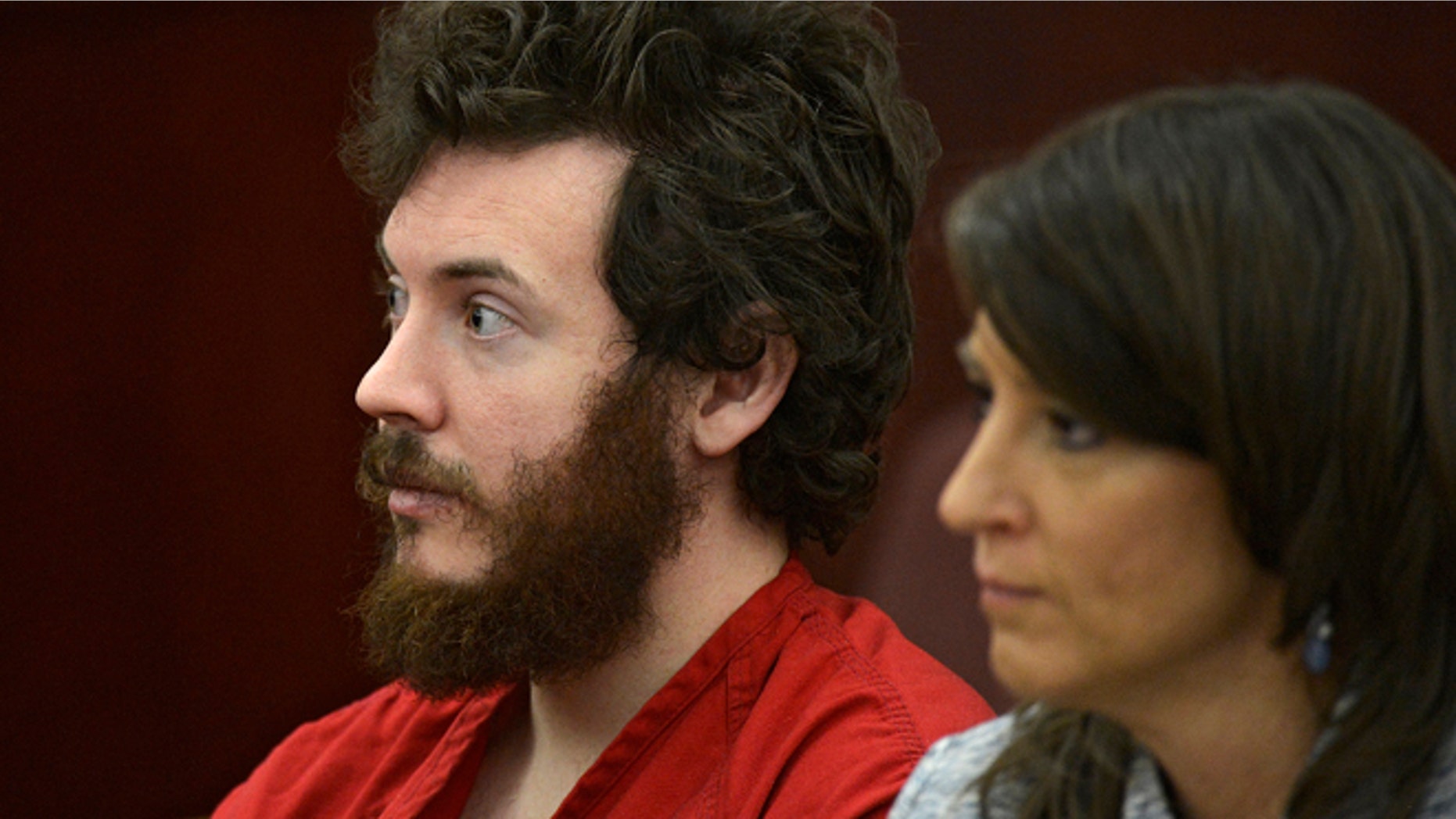 CENTENNIAL, Colo. – Colorado theater gunman James Holmes once said he wished a psychiatrist who treated him before the shootings had locked him up so the attack wouldn't have happened.
In a videotape played for jurors in Holmes' murder trial Tuesday, Holmes also says he might not have carried out the attacks if the psychiatrist, Dr. Lynn Fenton, hadn't prescribed him a drug that reduced his anxiety and fear -- but he says he might have done it later in life.
Fenton didn't return a phone message Tuesday. She is expected to testify later in the trial.
The videotape shown to jurors was from of a court-ordered sanity evaluation of Holmes conducted last year by another psychiatrist, Dr. William Reid. Reid concluded Holmes was mentally ill but legally sane because he understood right from wrong.
Holmes pleaded not guilty by reason of insanity in the July 20, 2012, attack in suburban Denver, which killed 12 people and wounded 70 others.
Holmes is charged with multiple counts of murder and attempted murder, and prosecutors are seeking the death penalty. Defense lawyers are asking jurors to find him not guilty by reason of insanity, which would bring an indefinite commitment to the state mental hospital. On the video shown Tuesday, Holmes says he repeatedly asked Fenton if she was going have police detain him under a 72-hour psychiatric hold, which she could do under Colorado law.
"I kind of regret that she didn't lock me up so everything could have been avoided," Holmes says.
But Holmes also tells Reid he was careful not to let Fenton know he was planning the theater attack.
Fenton is a psychiatrist at the University of Colorado, where Holmes was a student before the shootings. The reasons she didn't ask police to detain Holmes have not been made public, but they could come out if she testifies. Holmes told her he was having homicidal thoughts, according to court documents and testimony.
At least one lawsuit has been filed against Fenton alleging she should have had Holmes detained. The lawsuit has been put on hold until after the trial.
In the video, Holmes tells Reid that after he started taking the anti-anxiety drug sertraline prescribed by Fenton, he had no fears about dying or the consequences of killing people.
When Reid asked Holmes if he wouldn't have attacked the theater if he hadn't been taking the drug, Holmes replied, "I say it's a possibility," but he might have carried out an attack later in life.
Holmes also wrote about sertraline in a notebook made public last week, saying it had washed away his fears and unleashed his own dislike of others. "No more fear, hatred unchecked," he wrote, and then chronicled his escalating purchases of weapons.
Other key points from the videotape shown Tuesday:
-- Asked by Reid if Holmes considered himself a warrior, Holmes replies: "I didn't think of myself as a warrior, especially since the people I was shooting were unarmed."
-- When Reid asks if he fired on any theater victims who were fleeing, Holmes says, "There were two that were running away that I tried shooting at, but I missed."
-- Asked why Holmes didn't shoot at the police officers he saw, Holmes says they were looking the other way, and "I didn't want to shoot them in the back." He says he didn't intentionally shoot any theater victims in the back but might have, "because they're going to protect themselves by curling up on the ground."