Colorado rescue crews extract man believed trapped for days in store wall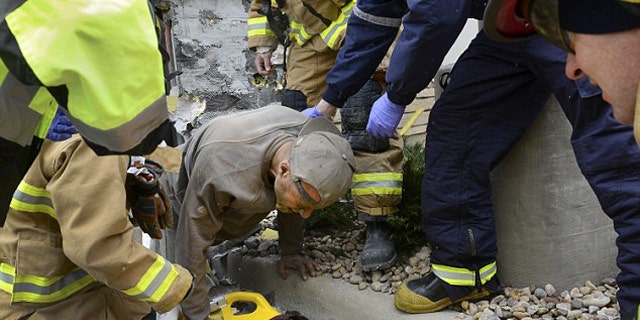 NEWYou can now listen to Fox News articles!
Police and firefighters in a Colorado town were forced to slice through a department store to free a man who is believed to have trapped himself between two walls of the store for at least two days.
The Longmont Times-Call reported that firefighters spent approximately 30 minutes Tuesday morning freeing 35-year-old Paul Felyk from a vacant space between the interior and exterior walls of a Marshalls store. As crews opened a hole in the store's exterior wall, the paper reported that Felyk crawled out and was taken to a local hospital. A police spokesman said Felyk remained hospitalized Tuesday afternoon with injuries to his lower extremities.
Marshalls employees told police that they had heard a man yelling Monday morning, but didn't know where he was. On Tuesday, they figured out that the man was yelling through a hole in the store's back wall.
Police say Felyk had entered the building through the roof before falling about 20 feet. It was not immediately clear exactly how long he had been there.
Investigators said Felyk was able to push notes that attempted to describe where he was under the interior wall of the store. One of those notes was dated Nov. 8., leading police to believe that he'd been there since Saturday, though that could not be immediately confirmed.
Felyk is thought to be a transient, and the Times-Call reported that he has prior convictions for robbery, trespassing, assault, driving while ability impaired, theft and criminal mischief. Police are looking into the incident as a possible burglary or trespassing and the Times-Call reported that charges are pending. Authorities are also investigating whether Felyk's presence in the building led to other businesses to have issues with Internet service, phone lines, and heating systems.
Click for more from TimesCall.com.